How To Boil Water (Hardcover)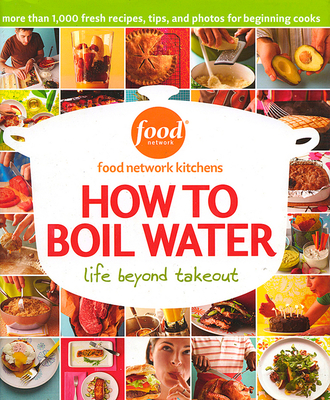 Description
---
• Shows beginning cooks how to do just what the title implies—and a lot more—without a hint of intimidations.
• Features classic comfort foods such as no-flip fried eggs and soul-soothing grilled cheese for one and bolder, ethnic recipes like Tacos Picadillo and Southeast Asian Beef Salad.
• Exquisite photography and Food Network recipes, both inspire and build the confidence needed to make every dish a success.
• Hundreds of must-know hints, tips and short-cuts for those new to the kitchen.
About the Author
---
THE FOOD NETWORK is a television network devoted exclusively to food and entertaining 24 hours a day. Today it reaches more than 90 million households in the United States and can be seen internationally in Canada, Australia, Korea, Thailand, Singapore, the Philippines, Monaco, Andorra, Africa, France, and the French-speaking territories in the Caribbean and Polynesia. Its informative and entertaining lifestyle programming--more than 95% is originally produced--includes world renowned chefs, restaurateurs, passionate gourmets, working mothers and celebrities and covers everything from gourmet meals and healthy diet to quick weeknight meals and wine. Food Network has been responsible for creating stars like Emeril Lagasse, Rachael Ray and Paula Deen, giving national exposure to chefs like Bobby Flay and Mario Batali, and bringing viewers the hugely popular Iron Chef America, based on the format of the Japanese cult sensation. Foodnetwork.com averages more than 7 million hits monthly, and the bi-monthly Food Network Magazine debuted with the November/December 2008 issue. More than 1 million copies of Food Network–branded books have been sold since 2004, and many of 2006's best-selling cookbooks were authored by Food Network chefs, including Rachael Ray, Paula Deen, Emeril Lagasse, Alton Brown, and others.