How to Change Your Mind: What the New Science of Psychedelics Teaches Us About Consciousness, Dying, Addiction, Depression, and Transcendence (Paperback)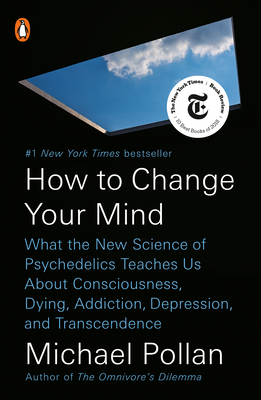 Staff Reviews
---
To fall in hell or soar Angelic
You'll need a pinch of psychedelic
This couplet, sent to Aldous Huxley by psychiatrist Humphry Osmond in 1956, coined the word we use to describe mind-expanding drugs like LSD (Lysergic acid diethylamide) and Psilocybin. With Greek words for "spirit" and "manifesting," Osmond made the word. It had nothing to do with wild designs or bright colors but was offered by Osmond to express what was experienced and understood to happen to persons affected by these substances before slew of social rents and fears grew to hysteria that halted research and access in the mid-1960s.
In his courageous new book, noted food writer and activist, Michael Pollan applies his careful, skeptical mind and intimate personal writing style to the complicated history, the reality and the astounding potential of psychedelic drugs. Pollan tells how a few fortuitous events aligned early in the millennium, permitting doors of research to be reopened. Recent discoveries in neuroscience refute a few old myths but, to a compelling degree, support observations and understandings from past eras. How to Change Your Mind is an encouraging and aspirational book. For ourselves and planet, let's hope psychedelics can escape their badly perverted reputation and senseless incarceration.
Michael Pollan was not part of the psychedelic craze in his youth. Clear information was hard to find between urban myths and reactionary propaganda. Like most inexperienced persons, he accepted stories of lunacy and chromosomal damage. His scientific mind inured him to more magical hippie stuff but, following his own psychedelic experiences and despite his avowed secular skepticism, his psychedelic trips took him as close to what one might call spiritual consciousness as anything he ever experienced. He is not alone. But the effects of psychedelics are harder to predict than other mind altering drugs.
Psychedelics produce more subjective results than any other known psychoactive substance. Effects are as variable as personalities and hard even for subjects to anticipate since psychedelics loosen the divide between the conscious and subconscious mind and the subconscious mind is as unpredictable as dreams and potentially as scary as nightmares, but seldom more harmful. The worst reports came from early military experiments involving unwitting subjects and unreasonably high doses. Unprepared victims felt like they were going crazy. They had no idea what was happening, but then the military was investigating psychedelics as truth serum or chemical weapon. No responsible guide or researcher would do that today. But scary stories of terrible the outcomes of these tests spread rapidly during the 1960s as the fearful ignorant war against psychedelics worsened.
Psychedelics work by inhibiting parts of the brain that are responsible for rapid judgements we make using experience and knowledge. This makes us efficient adults, but also hasty judges, and dull creatures of habit. Small children don't do this - they almost can't. The open perceptual mind and free imagination of youth - the reason kids learn and adapt so rapidly - is largely gone by adolescence. We trade lucid perception and loose creativity for perceptual, psychological and social efficiencies. The parts of the brain that control the ego and culture aspects of self are referred to by some brain scientists as the Default Mode Network (DMN). Pollan identifies the six parts of the brain that comprise it. Like water running down a mountain carves ruts that become landscape, our habitual perceptions, thoughts, judgements and feelings do the same in our brains. This is how the old become set in their ways, implacable, stubborn, bored and dull. This is how we quit learning by knowing. Psychedelics don't make things happen, they inhibit the mental filters that enable us to focus and get things done. These filters grow slowly, feel like confidence and define habits. They also narrow sensitivities, and dull perception.
Michael Pollan is not a metaphysical thinker. He cringes at magical descriptions of the psychedelic experience, which has often been associated with spiritual and cosmic thinking. Nonetheless, he can't avoid using the word, ineffable to describe the transcendent intense, proto-linguistic, yank-you back-to-toddler effects of a psychedelic trip - it is nearly impossible to describe. Words can't really do it. Somewhat like a person pointing at and describing a faraway mountain.
I am enthusiastic by the potentials presented in this book. Pollan critically examines prominent personalities, researchers and events in the evolution of psychedelics. He drops acid, eats mushrooms and "smokes the toad," which means toad venom. He brings in neuroscience to which predecessors like Huxley, Hofmann and Leary had no access. His work encompasses theologians, psychiatrists, anthropologists, shamans and therapists and arrives at the exciting conclusion that psychedelic drugs have great and barely utilized therapeutic value. Also, as promoted by contemporary founder of The Council on Spiritual practices, Bob Jesse, a more portentous and provocative revolution for "the betterment of well people." Jesse's group brought together data from hundreds of research projects from the 1950s through the seventies that show very high therapeutic potential with minimal risk, much less than we accept from a plethora of legal, including over-the-counter, medicants. But more exciting, is the prospect of overcoming ancient human problems originating in ego-delusion and manifesting in tribal defensiveness. It is a common aftereffect of psychedelics that users feel dissolution of the ego and symbiotic connectivity with life as the subject/object divide fades. That's right, the doors of perception that open in a mind on psychedelics could lead to a leap in human consciousness and perception that could have beautiful results. You have to read this book!
It is somewhat reckless, maybe even foolish, to try to impart the profundity of the psychedelic experience. It is credited with relaxing the ego, which helps persons with over-active Default Mode Networks that cause repression, depression and other states that occur when habitual patterns gain influence over perception and creativity. Psychedelic trips are likened to spiritual epiphanies. Weakening subject and object conceptualizations leads to more trusting and connected relationships with others and the earth as the user sees herself as a piece of the whole. LSD or psilocybin mushrooms restore the kind of unfiltered perception that is largely the estate of children who, without learning and experience shaping sensibilities, actually see more, hear more, feel more and think more freely than grown-ups.
Psychedelic drugs have nearly no medical risks and are probably super-efficient antidotes for psycho-emotional problems resultant of obsessive personalities. At least as exciting is that they apparently can help almost anyone to become less egocentric and to feel deeper, more compassionate connections to others and the whole wonderful world. These experiences are valuable to all but likely most beneficial to older, more gooked up minds.
Michael Pollan treats Timothy Leary fairly. This quote of his seems a good way to wrap up this complicated topic while giving warning and pause to habitual DMN reactions. "Psychedelic drugs cause panic and temporary insanity…in people who haven't taken them."
- Review by Tony
— From
Staff Picks Front Page Array
Description
---
"Pollan keeps you turning the pages . . . cleareyed and assured." —New York Times

A #1 New York Times Bestseller, New York Times Book Review 10 Best Books of 2018, and New York Times Notable Book 

A brilliant and brave investigation into the medical and scientific revolution taking place around psychedelic drugs--and the spellbinding story of his own life-changing psychedelic experiences

When Michael Pollan set out to research how LSD and psilocybin (the active ingredient in magic mushrooms) are being used to provide relief to people suffering from difficult-to-treat conditions such as depression, addiction and anxiety, he did not intend to write what is undoubtedly his most personal book. But upon discovering how these remarkable substances are improving the lives not only of the mentally ill but also of healthy people coming to grips with the challenges of everyday life, he decided to explore the landscape of the mind in the first person as well as the third. Thus began a singular adventure into various altered states of consciousness, along with a dive deep into both the latest brain science and the thriving underground community of psychedelic therapists. Pollan sifts the historical record to separate the truth about these mysterious drugs from the myths that have surrounded them since the 1960s, when a handful of psychedelic evangelists inadvertently catalyzed a powerful backlash against what was then a promising field of research.

A unique and elegant blend of science, memoir, travel writing, history, and medicine, How to Change Your Mind is a triumph of participatory journalism. By turns dazzling and edifying, it is the gripping account of a journey to an exciting and unexpected new frontier in our understanding of the mind, the self, and our place in the world. The true subject of Pollan's "mental travelogue" is not just psychedelic drugs but also the eternal puzzle of human consciousness and how, in a world that offers us both suffering and joy, we can do our best to be fully present and find meaning in our lives.
About the Author
---
Michael Pollan is the author of seven previous books, including Cooked, Food Rules, In Defense of Food, The Omnivore's Dilemma and The Botany of Desire, all of which were New York Times bestsellers. He's also the author of the audiobook Caffeine: How Caffeine Created the Modern World. A longtime contributor to the New York Times Magazine, he also teaches writing at Harvard and the University of California, Berkeley. In 2010, TIME magazine named him one of the one hundred most influential people in the world.
Praise For…
---
"Pollan's deeply researched chronicle will enlighten those who think of psychedelics chiefly as a kind of punchline to a joke about the Woodstock generation and hearten the growing number who view them as a potential antidote to our often stubbornly narrow minds . . . engaging and informative." —Boston Globe
 
"Pollan keeps you turning the pages . . . cleareyed and assured." —New York Times

"Michael Pollan's How to Change Your Mind: The New Science of Psychedelics changed my mind, or at least some of the ideas held in my mind. . . . Whatever one may think of psychedelics, the book reminds us that the mind is the greatest mystery in the universe, that this mystery is always right here, and that we usually dedicate far too little time and energy to exploring it." —Yuval Noah Harari, author of Sapiens and 21 Lessons for the 21st Century

"A deep dive into the history of psychedelics . . . . Deliciously trippy." —NY Post

"Amid new scientific interest in the potential healing properties of psychedelic drugs, Pollan . . . sets about researching their history—and giving them a (supervised!) try himself.  He came away impressed by their promise in treating addiction and depression—and with his mind expanded.  Yours will be too." —People

"Astounding." —Andrew Sullivan, New York Magazine

"Sweeping and often thrilling . . . . It is to Pollan's credit that, while he ranks among the best of science writers, he's willing, when necessary, to abandon that genre's fixation on materialist explanation as the only path to understanding. One of the book's important messages is that the therapeutic benefits of psychedelics, for the dying or seriously ill, can't be separated from the mystical experiences to which they give rise." —The Guardian

"Makes a compelling case for the potential value of psychedelic experiences." —Pittsburgh Post Gazette

"Journalist Michael Pollan explored psychoactive plants in The Botany of Desire (2001). In this bold, intriguing study, he delves further…Pollan even 'shakes the snow globe' himself, chemically self-experimenting in the spirit of psychologist William James, who speculated about the wilder shores of consciousness more than a century ago." —Nature, International Journal of Science

"Revelatory . . . Immensely fascinating . . . Pollan approaches his subject as a science writer and a skeptic endowed with equal parts rigorous critical thinking and openminded curiosity." —Maria Popova, Brainpickings

"Pollan, Cooked, 2013,  has long enlightened and entertained readers with his superbly inquisitive and influential books about food. He now investigates a very different sort of comestible, psychedelics (from the Greek: "mind manifesting"), and what they reveal about consciousness and the brain.  Pollan's complexly elucidating and enthralling inquiry combines fascinating and significant history with daring and resonant reportage and memoir, and looks forward to a new open-mindedness toward psychedelics and the benefits of diverse forms of consciousness." —Booklist (starred review)

"Pollan, Cooked, shifts his focus to other uses of plants in this brilliant history of psychedelics across cultures and generations, the neuroscience of its effects, the revival of research on its potential to heal mental illness—and his own mind-changing trips . . . . This nuanced and sophisticated exploration, which asks big questions about meaning-making and spiritual experience, is thought-provoking and eminently readable." —Publishers Weekly (starred review)
 
"A trip well worth taking, eye-opening and even mind-blowing." —Kirkus (starred review)

"Known for his writing on plants and food, Michael Pollan . . . brings all the curiosity and skepticism for which he is well known to a decidedly different topic . . . How to Change Your Mind beautifully updates and synthesizes the science of psychedelics, with a highly personalized touch." —Science Magazine

"I've never regretted my adolescent use of LSD, but reading this fascinating, lucid, wise and hopeful book did make me wonder if those drug experiences weren't another example of youth wasted on the young. Michael Pollan, who waited until he was a grownup to experiment, is the perfect guide to today's dawning psychedelic renaissance." —Kurt Andersen, author of Fantasyland
 
"Michael Pollan masterfully guides us through the highs, lows, and highs again of psychedelic drugs. How to Change Your mind chronicles how it's been a longer and stranger trip than most any of us knew." —Daniel Goleman, co-author Altered Traits: Science Reveals How Meditation Changes Your Mind, Brain and Body
 
"Very few writers, if any, have the gravitas and journalistic cred to tackle this explosive subject—from both the outside and the inside—extract it from its nationally traumatic and irrationally over reactive past, and bring both reason and revelatory insight to it. Michael Pollan has done just that. This is investigative journalism at its rigorous and compelling best—and radically mind opening in so many ways just to read it." —Jon Kabat-Zinn, founder of mindfulness-based stress reduction, and author of Full Catastrophe Living and Coming to Our Senses
 
"Michael Pollan assembles a great deal of information here on the history, science, and effects of psychedelics. I found his frank recounting of his recent experiences with LSD, psilocybin, and toad venom most revealing. They appear to have softened his materialistic views and opened him to the possibilities of higher consciousness. He did, indeed, change his mind." —Andrew Weil, author of The Natural Mind and 8 Weeks to Optimum Health

"Do psychedelics open a door to a different reality, or is it just the same-old, same-old reality seen through a different set of lenses? I quickly became engrossed in Pollan's narrative—the intersection of science, consciousness-enhancing, and government prohibition. But at the center of Pollan's story is the greatest conundrum of all—why should substances that have been so beneficial to so many people, be the focus of crazy criminal penalties? Why, indeed." —Errol Morris
 
"Michael Pollan has applied his brilliant mind and fastidious prose to the Mind itself, specifically the modes by which psychedelic substances temporarily obliterate the ego and engender deep spiritual connectedness to the universe. Michael walks the tight-rope between an objective 'reporter' and a spiritual pilgrim seeking insight and sustenance from psychedelics, and his innocence and integrity serve as a balance bar between cynicism and partisan affirmation. His success here places these drugs and what they do at the center of a potential revolution in medicine. It's an extraordinary achievement, and no matter what you may think you know about psychedelics, if you even know the word, you should read this book." —Peter Coyote, author and Zen Buddhist Priest
 
"After 50 years underground, psychedelics are back. We are incredibly fortunate to have Michael Pollan be our travel guide for their renaissance. With humility, humor, and deep humanity, he takes us through the history, the characters, and the science of these "mind manifesting" compounds. Along the way, he navigates the mysteries of consciousness, spirituality, and the mind. What he has done previously for gardeners and omnivores, Pollan does brilliantly here for all of us who wonder what it means to be fully human, or even what it means to be." —Thomas R. Insel, MD, former director of National Institute of Mental Health and co-founder and president of Mindstrong Health

"A rare and utterly engrossing exposition that will most certainly delineate a fundamental change in the understanding of the human mind and the mystery of consciousness. Pollan previously reshaped our knowledge of earthly landscapes in his writings. With this book, he transforms our understanding of the innerscape, the unbounded world we occupy every conscious second of our life experienced by thoughts, suffering, awareness, joy, and reasoning. This is more than a book—it is a treasure." —Paul Hawken, author of Blessed Unrest