The Soulful Journey of Recovery: A Guide to Healing from a Traumatic Past for ACAs, Codependents, or Those with Adverse Childhood Experiences (Paperback)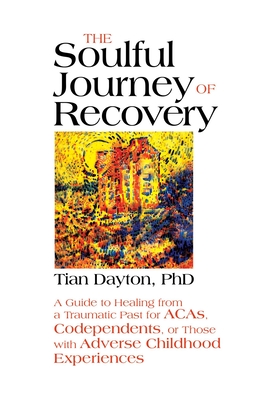 $15.95

Not in Stock... Available to ship in 3-5 days
Description
---
More than just a book full of the latest information, this is a dynamic, interactive, and personalized journey of recovery for those impacted by adverse childhood experiences (ACES). Finally, they can put their past behind them where it belongs!

For those who have grown up in a family with addiction, mental illness, or other adverse childhood experiences (ACES), the heartache and pain doesn't end when they grow up and leave home. The legacy can last a lifetime and spread to generations unseen, as author Janet Wotitiz first showed readers in the groundbreaking Adult Children of Alcoholics. In The ACoA Trauma Syndrome Dr. Tian Dayton picked up where Dr. Woititz left off, filling in the decades of research that tell us why pain from yesterday recreates itself over and over again in our today. In The Soulful Journey of Recovery, Dr. Dayton gives us the how.

There is a journey of recovery that you can start today. Simple, elegantly written and researched, poignant, penetrating, and on point, Dr. Dayton will move with you through the confusion, pain, and anger you may carry in secrecy and silence. Through engaging and enlightening exercises, you will give voice to hidden wounds and space to your innermost emotions and thoughts. Online links will also offer guided meditations, film clips and other tools to enhance the work you do in the book. You will learn what happened to you growing up with dysfunction and you will learn how to deal with it in the present. You will discover that recovery is a self-affirming life adventure, and the kindest and best thing you can do for yourself and future generations. Some books can change your life. This is one of them.
About the Author
---
Tian Dayton, Ph.D., is a senior fellow at The Meadows. A creative arts therapist, she has an M.A. in educational psychology and a Ph.D. in clinical psychology and is a board-certified trainer in psychodrama. She is the author of 15 books including Neuropsychodrama, The ACoA Trauma Syndrome, Emotional Sobriety, Trauma and Addiction, Forgiving and Moving On and The Living Stage. She taught psychodrama at New York University for eight years prior to becoming the Director of The New York Psychodrama Training Institute. Dr. Dayton is a fellow of the American Society of Group Psychotherapy and Psychodrama (ASGPP), editor-in-chief of the Journal of Psychodrama, Sociometry & Group Psychotherapy. She is also the winner of The Mona Mansell Award and The Ackermann Black Award, The Scholar's Award, The President's Award and The Gratitude Award. Dr. Dayton has been a guest expert on NBC, CNN, MSNBC, Montel, Rikki Lake, John Walsh, and Geraldo and a blogger for Thrive Global and The Huffington Post.
Praise For…
---
"Of the many books on trauma, codependency, and children of alcoholics, The Soulful Journey of Recovery stands out as a groundbreaking work. Tian Dayton has synthesized current research, behavioral theory, and her years of experience in creating a must-read not just for those that have grown up in families of trauma but for clinicians who work with these individuals. Her understanding of what happens to a child physically, emotionally, and spiritually and how these experiences manifest in adult relationships is astounding. Dr. Dayton has a true gift for writing with clarity and inspiration and this book is no exception. The Soulful Journey of Recovery goes far beyond our notions of codependency and trauma-related issues and provides the reader with a deeper understanding and practical tools that will assist in healing."

—Rokelle Lerner, Senior Clinical Advisor of Crossroads Antigua; author of Daily Affirmations for the Inner Child, Daily Affirmations for Adult Children of Alcoholics, and The Object of My Affection Is in My Reflection; founding member of the National Association for Children of Addiction

"I have always loved Tian Dayton's work, and one more time, her words speak directly to me in my personal and professional journey. Whether you are new to her work or are a sage admirer, you will find yourself captivated, inspired, and furthered in your recovery journey. She has a great mastery of words as she cuts to the core and speaks the truth of those who have lived with trauma. As said in the introduction, recovery is not stopping something as much as it is beginning . . ."

—Claudia Black, PhD, Senior Fellow of The Meadows; Director of the Claudia Black Young Adult Center; author of It Will Never Happen to Me and Unspoken Legacy; founding member of the National Association for Children of Addiction

"The Soulful Journey of Recovery is a book that possesses the rare opportunity to simultaneously teach and emotionally touch the reader. Those children of all ages who have experienced trauma in their lives have the opportunity to read and reflect on the wisdom of Dr. Dayton. Her clinical expertise is obvious throughout the book. She is a master at helping others and is truly at the top of her game. This book will take the reader from personal traumas to shared recovery. I highly recommend her book to all who search for a journey to recovery. You will not be disappointed."

—Robert J. Ackerman, PhD, professor emeritus from Indiana University of Pennsylvania; former Director of the Mid-Atlantic Addiction Research and Training Institute, author of Perfect Daughters and Silent Sons; cofounder of the National Association for Children of Addiction

"Once again, as a great author, Dr. Tian Dayton has brought forth words that touch our hearts and souls. There are millions of us who were confused, devastated, and in emotional pain because of the addiction and the havoc that addiction played in our lives. She has reached in and pulled out the deep strength and courage that each of us houses inside our often 'too busy' minds, aching hearts, and tired bodies. For the time we read her book, The Soulful Journey of Recovery, we breathe deep, we relax our personal selves, and are able to recharge, understand, and feel our own inner gifts. This is a book that must be read once, put into our memory and action bank, and then read as often as we need to recharge. I enjoyed being able to it pick up and put it down, absorbing the wisdom of each chapter. Dr. Tian Dayton has produced another masterpiece, and I highly recommend this book to all of us who have held hands as we walked the journey of recovery from all addictions."

—Sharon Wegscheider-Cruse, author of Learning to Love Yourself, Choicemaking, Another Chance, and Caregiving; family therapist; cofounder of the National Association for Children of Addiction; founder of ONSITE Workshops, TN