Classical Mythology A to Z: An Encyclopedia of Gods & Goddesses, Heroes & Heroines, Nymphs, Spirits, Monsters, and Places (Hardcover)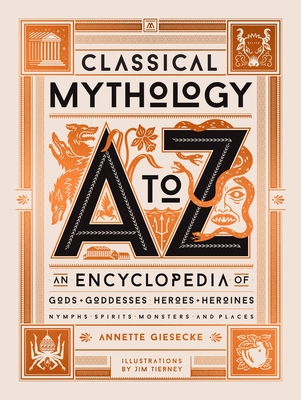 $30.00

Not in Stock... Available to ship in 3-5 days
Description
---
A beautifully illustrated, wonderfully engaging A-to-Z guide to more than 700 major and minor gods and goddesses, characters, creatures, and places of classical Greek and Roman mythology.   Classical Mythology A-to-Z is a comprehensive and engrossing guide to Greek and Roman mythology. Written by Annette Giesecke, PhD, Professor of Classics and Chair of Ancient Greek and Roman Studies at the University of Delaware, this brilliant reference offers clear explanations of every character and locale, and captures the essence of these timeless tales.
  From the gods and goddesses of Mount Olympus and the heroes of the Trojan War to the nymphs, monsters, and other mythical creatures that populate these ancient stories, Giesecke recounts, with clarity and energy, the details of more than 700 characters and places. Each definition includes cross-references to related characters, locations, and myths, as well their equivalent in Roman mythology and cult.
In addition to being an important standalone work, Classical Mythology A-to-Z is also written, designed, and illustrated to serve as an essential companion to the bestselling illustrated 75th-anniversary edition of Mythology by Edith Hamilton, including 10 full-color plates and 2-color illustrations throughout by artist Jim Tierney.
About the Author
---
Annette Giesecke, PhD, is a Classicist and Professor at Te Herenga Waka | Victoria University of Wellington, New Zealand. She has written on Epicurean philosophy, the poetry of Homer and Vergil, garden history, and ancient attitudes towards the natural environment. Her books include The Epic City, A Cultural History of Plants (6 vols.), The Good Gardener, and Earth Perfect.  She lives in Wellington, New Zealand.   Jim Tierney is an illustrator and graphic designer living in southeastern Pennsylvania. He illustrated the bestselling 75th-Anniversary Edition of Mythology by Edith Hamilton.
Praise For…
---
"Annette Giesecke has recently added a wonderful and indispensable book to the corpus of mythology.... Each generation needs a mythology reference book like this, since mythology is immortal and always relevant to successive cultures but nonetheless helpful when language is both contemporary and universal as here."—Patrick Hunt, Electrum Magazine

"Inviting and highly readable…a beautiful book: the layout is pleasing, with pages bordered in a sepia-toned Greek key design and frequent woodblock-style illustrations. Occasional full-page color plates in the same woodblock style add to the appeal. Charts showing, for example, the genealogy of the ruling house of Troy, are double-page spreads, clearly laid out and beautifully ornamented. Finishing with an appendix of gods, a glossary of ancient sources, and a detailed index, this is an ideal work for collections in need of a solid (and attractive) introduction to classical mythology."—Ann Welton, Booklist