All Systems Red: The Murderbot Diaries (Paperback)
Weller Book Works was founded as Zion Bookstore nearly 90 years ago. Over the years we've been known as Sam Weller's Books and Sam Weller's Zion Bookstore. We are in our third generation of operations, owned and managed by Tony and Catherine Weller. Our staff includes four generations of Wellers and a remarkable team of book lovers. Our bookstore sells new, used and rare books in a space built to surprise and delight you in historic Trolley Square.

We're happy to answer your questions and help you select just the right book.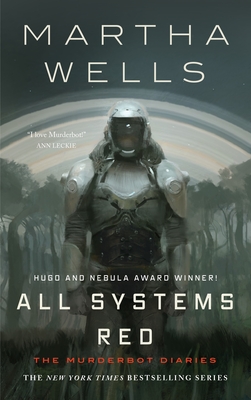 Other Books in Series
This is book number 1 in the The Murderbot Diaries series.
Staff Reviews
---
After reading the novella, All Systems Red, its author, Martha Wells, skyrocketed to the top of my favorite authors list. Her prose is succinct yet beautiful. Not a word more is required to paint the image of the self-proclaimed "Murderbot," a rogue SecUnit who would rather watch its soap opera-esque series than be a tool used by planetary corporations. But when its current mission goes awry, Muderbot must discover the truth behind its mission, origin, and place in the universe.
— From
Front Page Booklist 1
Description
---
Winner: 2018 Hugo Award for Best Novella
Winner: 2018 Nebula Award for Best Novella
Winner: 2018 Alex Award
Winner: 2018 Locus Award
One of the Verge's Best Books of 2017
A New York Times and USA Today Bestseller

A murderous android discovers itself in All Systems Red, a tense science fiction adventure by Martha Wells that interrogates the roots of consciousness through Artificial Intelligence.
"As a heartless killing machine, I was a complete failure."
In a corporate-dominated spacefaring future, planetary missions must be approved and supplied by the Company. Exploratory teams are accompanied by Company-supplied security androids, for their own safety.
But in a society where contracts are awarded to the lowest bidder, safety isn't a primary concern.
On a distant planet, a team of scientists are conducting surface tests, shadowed by their Company-supplied 'droid — a self-aware SecUnit that has hacked its own governor module, and refers to itself (though never out loud) as "Murderbot." Scornful of humans, all it really wants is to be left alone long enough to figure out who it is.
But when a neighboring mission goes dark, it's up to the scientists and their Murderbot to get to the truth.
About the Author
---
MARTHA WELLS has written many fantasy novels, including The Wizard Hunters, Wheel of the Infinite, the Books of the Raksura series (beginning with The Cloud Roads and ending with The Harbors of the Sun), and the Nebula-nominated The Death of the Necromancer, as well as YA fantasy novels, short stories, and non-fiction.
Praise For…
---
"I love Murderbot!" —Ann Leckie, author of Ancillary Justice

"The Murderbot series is a heart-pounding thriller that never lets up, but it's also one of the most humane portraits of a nonhuman I've ever read. Come for the gunfights on other planets, but stay for the finely drawn portrait of a deadly robot whose smartass goodness will give you hope for the future of humanity." —Annalee Newitz, author of Autonomous
"Clever, inventive, brutal when it needs to be, and compassionate without ever being sentimental." —Kate Elliott, author of the Spirit Walker trilogy
"Endearing, funny, action-packed, and murderous." —Kameron Hurley, author of The Stars are Legion

"Not only a fun, fast-paced space-thriller, but also a sharp, sometimes moving character study that will resonate with introverts even if they're not lethal AI machines." —Malka Older, author of Infomocracy

"We are all a little bit Murderbot."—NPR
"Wells gives depth to a rousing but basically familiar action plot by turning it into the vehicle by which SecUnit engages with its own rigorously denied humanity." —Publishers Weekly starred review
"I already can't wait for the next one." —The Verge
"Meet your favorite depressed A.I. since Marvin." —B&N Sci-Fi and Fantasy Blog
"A great kick-off for a continuing series." —Locus

"Wells imbued Murderbot with extraordinary humanity, and while this is a fun read, don't make the mistake of thinking it's not a profound one."—LA Times
PRAISE FOR MARTHA WELLS
"Martha Wells writes fantasy the way it was meant to be—poignant, evocative, and astonishing. Prepare to be captivated 'til the sun comes up." —Kameron Hurley, author of The Mirror Empire and God's War
"The Cloud Roads has wildly original world-building, diverse and engaging characters, and a thrilling adventure plot. It's that rarest of fantasies: fresh and surprising, with a story that doesn't go where ten thousand others have gone before. I can't wait for my next chance to visit the Three Worlds!" —N. K. Jemisin, author of The Hundred Thousand Kingdoms
"Breathtakingly surprising and fun. For readers who missed earlier entry points to this delightful series, now is the time to get on board." —The New York Times on The Edge of Worlds
"That rarity—a completely unique and stunning fantasy world." —Hugo Award-winning author Elizabeth Bear on The Edge of Worlds