The Beatles: Photographs from the Set of Help! (Hardcover)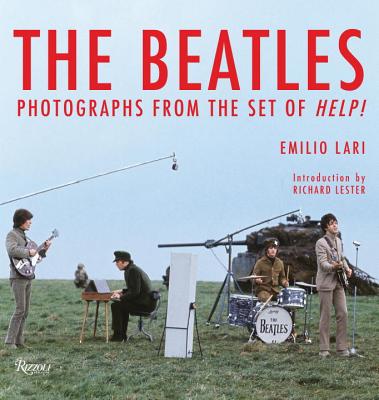 Description
---
An extraordinary collection of mostly unseen photographs of the Beatles during the making of Help!. Published to coincide with the fiftieth anniversary of the release of the Beatles' second motion picture, Help!, this almost entirely unpublished collection of photographs marks a pivotal turning point in the band's history, as they evolved from much-loved musicians into the most important group of all time. 

The Beatles' first movie filmed in color, Help! is a madcap adventure featuring cinematography and film sequences widely considered to be hugely influential to the modern performance-style music videos of today. Specialist set photographer Emilio Lari was invited by director Richard Lester to shoot stills of the production at Twickenham Studios and document behind-the-scenes larking about as the band relaxed in their hotel between takes. With an introduction by Lester and intimate, never-before-seen images, The Beatles: Help! provides new and fascinating insights into the band that changed the history of music and the world.
About the Author
---
Emilio Lari is a photographer who specializes in set photography. He has shot over 140 films, including Barbarella, the Godfather trilogy, and Raging Bull. Alastair Gordon is an award-winning author, critic, curator, and filmmaker who has published numerous books including Spaced Out and Weekend Utopia. He has been a feature writer and contributing editor for many newspapers and magazines, including the Wall Street Journal, the New York Times, and the International Herald Tribune. Richard Lester is an award-winning film director whose credits include A Hard Day's Night, The Three Musketeers, and Superman II and III. Lester won Cannes Film Festival's Palme d'Or for The Knack . . .  and How to Get It.
Praise For…
---
"Musicians will enjoy the close-up images of the band with its famed guitars: George Harrison with his Gibson acoustic, John Lennon with his Rickenbacker, Paul McCartney with his violin-shaped Hofner bass. We've seldom seen these instruments so closely and looking so shiny and new. The same is true for the pictures of the Beatles themselves. They look so young, fresh and lively that it's hard to believe the pictures are more than 50 years old. . . [This book is] an excellent collection of one photographer's intimate view of the Beatles, featuring mostly unfamiliar and very compelling images of history's most famous band."
-WinkBooks.net