Uniforms, Arms, and Equipment, Two Volume Set: The U.S. Army on the Western Frontier 1880-1892 (Hardcover)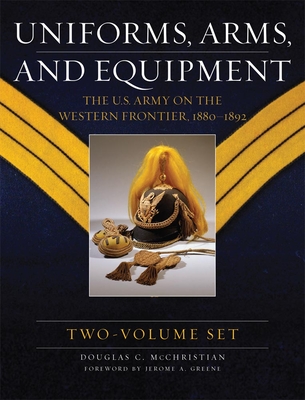 Description
---
Volume 1: Headgear, Clothing, and Footwear
Volume 2: Weapons and Accouterments
The definitive two-volume survey of military clothing and equipment during the final years of the U.S.-Indian wars
Building on the success of his best-selling The U.S. Army in the West, 1870-1880: Uniforms, Arms, and Equipment, Douglas C. McChristian here presents a two-volume comprehensive account of the evolution of military arms and equipment during the years 1880-1892. The volumes are set against the backdrop of the final decade of the Indian campaigns--a key period of transition in United States military history.
In Volume 1, McChristian shows how the Quartermaster Department modified the design and manufacturing of uniforms and other clothing to meet the developing needs of troops in the American West. In Volume 2, he focuses on weapons and other accouterments, recounting in detail the army's quest to find a repeating rifle that would serve the needs of both cavalry and infantry across the plains.
Drawing on extensive research in public and private collections throughout the United States and lavishly illustrated with more than four hundred color and black-and-white illustrations, these volumes will serve as invaluable references for collectors, curators, and students of militaria and of the frontier era.