Silence: Lectures and Writings (Paperback)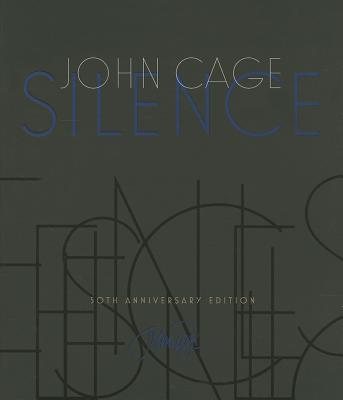 Staff Reviews
---
My most esteemed books find places on one of two mental lists I keep. Persons sometimes ask me what are my favorite books and I am stymied until I parse them into two principals. When I hear favorite, my mind goes first to affection and I think of the books I simply love. Most of these are literary and as I list them, I feel anxious not including as many titles I have read that earned my high respect without the swoon of love because of the affect they had on my beliefs and thinking. These books are found on my Most Important books list.
I am here , and there is nothing to say .
Since my twenties, I have periodically selected a number of my favorite books and photographed them in a large rectangle. While the books were not sorted, the old photos show my evolution of taste. John Cage's 1961 Silence has been among them for decades. Most notably, it is the only book that finds its way onto both of my esteemed book lists. I have high affection for the experience of reading it and the ideas it contains influenced me in enduring ways. In 2011 Wesleyan University Press issued a 50th Anniversary edition which is still available today.
A bird flies
Slavery is abolished
The woods
A sound has no legs to stand on.
The world is teeming: anything can happen.
Cage is known as a composer. He rebelled against the rigid formalities of his classical training. He decided all sound was viable for music.
In 1952 he first performed 4'33" which was very important and very boring. But with 4'33" is found a definitive frontier in the field of music. Silence. Since his simple (and silly) act, the field of creative play is larger.
— From
Staff Picks Front Page Array
Silence, the first book by rebel composer John Cage, is not only a beautiful book but one of the most philosophically important books I have ever read. Cage's philiosophy is playful, provocative, enlightened and light. It is deep and crazy. Random and sensitive. Silence is on both my list of favorite books and my list of most influential books. I adore it.
— From
Tony's Picks
Description
---
Silence, A Year from Monday, M, Empty Words and X (in this order) form the five parts of a series of books in which Cage tries, as he says, "to find a way of writing which comes from ideas, is not about them, but which produces them." Often these writings include mesostics and essays created by subjecting the work of other writers to chance procedures using the I Ching (what Cage called "writing through").

John Cage is the outstanding composer of avant-garde music today. The Saturday Review said of him: "Cage possesses one of the rarest qualities of the true creator- that of an original mind- and whether that originality pleases, irritates, amuses or outrages is irrelevant." "He refuses to sermonize or pontificate. What John Cage offers is more refreshing, more spirited, much more fun-a kind of carefree skinny-dipping in the infinite. It's what's happening now." -The American Record Guide

"There is no such thing as an empty space or an empty time. There is always something to see, something to hear. In fact, try as we may to make a silence, we cannot. Sounds occur whether intended or not; the psychological turning in direction of those not intended seems at first to be a giving up of everything that belongs to humanity. But one must see that humanity and nature, not separate, are in this world together, that nothing was lost when everything was given away."
About the Author
---
His teacher, Arnold Schoenberg, said JOHN CAGE was "not a composer but an inventor of genius." Composer, author, and philosopher, John Cage was born in Los Angeles in 1912 and by the age of 37 had been recognized by the American Academy of Arts for having extended the boundaries of music.