History of Utah Radicalism: Startling, Socialistic, and Decidedly Revolutionary (Hardcover)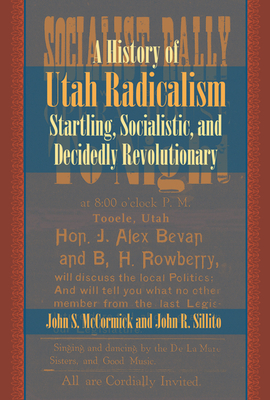 Description
---
Utah, now one of the most conservative states, has a long tradition of left-wing radicalism. Early Mormon settlers set a precedent with the United Order and other experiments with a socialistic economy. The tradition continued into the more recent past with New Left, anti-apartheid, and other radicals. Throughout, Utah radicalism usually reflected national and international developments. Recounting its long history, McCormick and Sillito focus especially on the Socialist Party of America, which reached a peak of political influence in the first two decades of the twentieth century—in Utah and across the nation.

At least 115 Socialists in over two dozen Utah towns and cities were elected to office in that period, and on seven occasions they controlled governments, of five different municipalities. This is a little-known story worth a closer look. Histories of Socialism in the United States have tended to forsake attention to details, to specific, local cases and situations, in favor of broader overviews of the movement. By looking closely at Utah's experience, this book helps unravel how American Socialism briefly flowered and rapidly withered in the early twentieth century. It also broadens conventional understanding of Utah history.
About the Author
---
John McCormick earned a Ph.D. in intellectual history from the University of Iowa. He is currently dean of the School of Humanities and Social Sciences at Salt Lake Community College. He has published books and articles in a number of areas, including political history, urban history, historic preservation, and the built environment. His books on Utah history include The Gathering Place: An Illustrated History of Salt Lake City.
John Sillito is emeritus professor of libraries at Weber State University. A native of Salt Lake City, he has degrees in history and political science from the University of Utah. He is the editor of History's Apprentice: The Diaries of B. H. Roberts, 1880-98 and, with John S. McCormick, A World We Thought We Knew: Readings in Utah History. His writings have appeared in such journals as the Utah Historical Quarterly, Sunstone, and Dialogue: a Journal of Mormon Thought. He resides in Ogden, Utah.
Praise For…
---
A much needed history of socialism in Utah, this book will appeal to scholars of radicalism, Utah history, political history, religion, and the American West. The ways the authors deal with socialist culture, radical space, and the socialists' relationship to religion make this a truly original book.
—John P. Enyeart, author of The Quest for "Just and Pure Law": Rocky Mountain Workers and American Social Democracy, 1870-1924