Maine On Glass: The Early Twentieth Century in Glass Plate Photography (Paperback)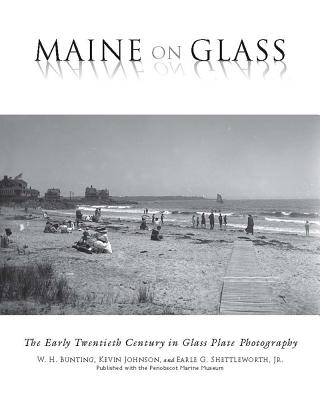 Description
---
Nineteenth-century Maine—famed for its lumbering, shipbuilding, and seafaring—has attracted copious attention from historians, but early twentieth-century Maine has not. Maine on Glass redresses this imbalance with 190 postcard photos and three of Maine's foremost historians.
MWPA Maine Literary Award Finalist John N. Cole Award for Maine-Themed Nonfiction
2017 book award from the New England Society of the City of New York
Postcards were the Instagrams of the early twentieth century. On one day in September 1906, 200,000 postcards were mailed from Coney Island. In 1913 some 968,000,000 postcards were sent in the U.S., more than seven per person. The majority of postcards made at the turn of the twentieth century were mass-produced lithograph or letterpress half-tones, but the Eastern Illustrating & Publishing Company produced "real photo postcards" in the form of silver gelatin prints made by exposing the negative onto photo paper card stock and developing it in a traditional wet darkroom. Eastern was the largest U.S. manufacturer of what it called "genuine" photo postcards.  
The images in this book were selected from 22,000 glass plate negatives created by the Eastern company between 1909 and World War II. As an archive of early twentieth-century Maine architectural photography, the Eastern collection (now housed at the Penobscot Marine Museum) has no equal, and it gives us many unexpected glimpses of Maine life. Maine residents, expatriates, and visitors will enjoy hours of pleasure in this journey through Maine's countryside, villages, and towns, guided by three historians who can bring a vista to life with a few well-chosen comments.
About the Author
---
W. H. "BILL" Bunting is the author of a number of critically acclaimed works of history including Portrait of a Port: Boston 1852-1914; Steamers, Schooners, Cutters, and Sloops: The Marine Photographs of N. L. Stebbins; A Day's Work: A Sampler of Historic Maine Photographs, 1860-1920 (in two volumes); The Camera's Coast: Historic Images of Sea and Shore in New England; Live Yankees; and Maine on Glass: The Early Twentieth Century in Glass Plate Photography.  With Earle G. Shettleworth, Jr., he wrote An Eye for the Coast: The Monhegan and Maritime Photographs of Eric Hudson and Maine on Glass: The Early Twentieth Century in Glass Plate Photography.

Bill Bunting shipped as galley boy aboard the brigantine Yankee at age 13 and later completed a 25,000-mile world voyage as first mate of a 132-foot barkentine.
Kevin Johnson
is the photo archivist for the Penobscot Marine Museum.
Earle G. Shettleworth Jr.
was appointed to the first board of the Maine Historic Preservation Commission in 1971 and has served as director of the commission since 1976 and as Maine State Historian since 2004.
Praise For…
---
A fascinating collection of photographs from all over the state.  A great book for anyone who loves Maine.
— Wooden Boat Magazine

Though all involved in the creation of this project are among the best in Maine, Bunting deserves special mention for his unique ability to pry documentary information out of photographs  . . . . This is an enjoyable and readable book that can be relied upon by all.
— Maine Sunday Telegram

Bunting brings the viewer into photographs with a Sherlock Holmesian eye for every detail, nuance and context. . . . The photo captions mix researched facts with irony, humor and social comment.
— Fisherman's Voice

Maine on Glass is a first-rate production . . . . For each photo there's an engaging caption written by Bill Bunting, king of the caption writers.
— Off Center Harbor blog