Bloom One Line a Day: an Undated Single Year Memory Book (Paperback)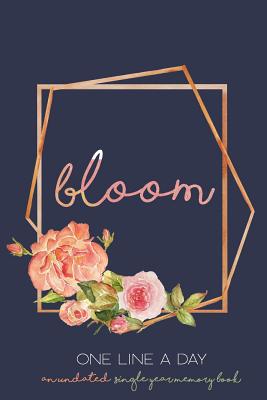 Description
---
Single Year
One Line a Day
Because five years is too long So many of us want to keep a daily journal and writing just one line a day is a great way to get into the journaling habit (it's so good for you and achieving your goals ). BUT, then you realize that most One Line a Day journals are FIVE years long. You have a hard time keeping a living thing alive for that long (I know what happened to your house plants), much less keeping up with the same journal for five whole years.

Write just
One Line a Day
Capture the moments of your entire year in just one line a day, sum up your day in just one sentence and keep your best memories close at hand. There are 365 spots to record your daily one liners.
Be Grateful
There is a gratitude spot to record the things you are thankful for.
Undated
, 365 One Liners for a Whole Year of Journaling
We don't date our one line a day journals so you can start on any day of the year. Simply fill in the date in the box next to that day's line. Each week has a year and month field.
Makes a great:
gift for Mom
focus journal - use the journal to document your journey to a specific goal
work journal
business journal
mental health journal
anxiety journal
wedding journal
first year of marriage journal
The journal details:
Size: 6x9....fits in most purses, bags, backpacks, etc.
Cover: Soft, matte
Paper: White with black ink