No Barriers: A Blind Man's Journey to Kayak the Grand Canyon (Hardcover)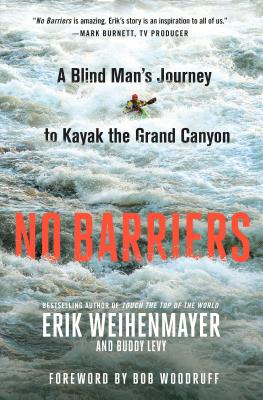 Description
---
2018 Colorado Book Awards finalist in Creative Nonfiction, and National Bestseller and Honorable Mention Award Winner in the Outdoor Literature category of the 2017 National Outdoor Book Awards (NOBA) — "A beautiful book about family and finding a way to achieve more than you ever thought possible." —Brad Meltzer, NYT bestselling author

Erik Weihenmayer is the first and only blind person to summit Mount Everest, the highest point on Earth. Descending carefully, he and his team picked their way across deep crevasses and through the deadly Khumbu Icefall; when the mountain was finally behind him, Erik knew he was going to live. His expedition leader slapped him on the back and said something that would affect the course of Erik's life: "Don't make Everest the greatest thing you ever do."

No Barriers is Erik's response to that challenge. It is the moving story of his journey since descending Mount Everest: from leading expeditions around the world with blind Tibetan teenagers to helping injured soldiers climb their way home from war, from adopting a son from Nepal to facing the most terrifying reach of his life: to solo kayak the thunderous whitewater of the Grand Canyon.

Along the course of Erik's journey, he meets other trailblazers—adventurers, scientists, artists, and activists—who, despite trauma, hardship, and loss, have broken through barriers of their own. These pioneers show Erik surprising ways forward that surpass logic and defy traditional thinking.

Like the rapids of the Grand Canyon, created by inexorable forces far beneath the surface, No Barriers is a dive into the heart and mind at the core of the turbulent human experience. It is an exploration of the light that burns in all of us, the obstacles that threaten to extinguish that light, and the treacherous ascent towards growth and rebirth.
About the Author
---
ERIK WEIHENMAYER is an athlete, adventurer, author, activist and motivational speaker, and the only blind person to reach the summit of Mount Everest. He also completed the Seven Summits, joining 150 mountaineers who had accomplished that feat, but the only climber who was blind. He is the bestselling author of Touch the Top of the World and The Adversity Advantage. Weihenmayer co-founded No Barriers USA, which helps those with special challenges to live active and purposeful lives. He lives in Colorado.

BUDDY LEVY is the author of over seven books, including Conquistador: Hernan Cortes, King Montezuma, and the Last Stand of the Aztecs; and River of Darkness: Francisco Orellana's Voyage of Death and Discovery Down the Amazon. He is co-author of No Barriers: A Blind Man's Journey to Kayak the Grand Canyon (with Erik Weihenmayer) and GERONIMO: Leadership Strategies of An American Warrior (with Mike Leach). His books have been published in eight languages. He lives in Idaho.
Praise For…
---
"Weihenmayer presents an exhilarating adventure story of arduous mountain climbing and whitewater kayaking, but he also offers broader life lessons. A wonderful tribute to the greatness of the human spirit." —Kirkus Reviews (starred review)

"No Barriers is amazing. Erik's story is an inspiration to all of us." —Mark Burnett, TV producer

"No Barriers does more than chronicle a magnificent and seemingly impossible journey through the heart of the Grand Canyon. It offers a shining testament to the truth that both on rivers and in life, it is within the pockets of turbulence—the places where chaos reigns greatest— that discovery, wisdom, and growth await. Weihenmayer's powers of discernment are acute, startling, and deeply inspirational."— Kevin Fedarko, New York Times bestselling author of The Emerald Mile

"No Barriers is more than an incredible adventure story — it's a beautiful book about family and finding a way to achieve more than you ever thought possible."—Brad Meltzer, New York Times bestselling author of The President's Shadow

"An inspiration to other blind people and plenty of us folks who can see just fine."—Jon Krakauer, New York Time bestselling author of Into Thin Air

"Chronicling a grueling journey navigating eddies and rapids while paying homage to the complexity of families and bonds of friendship forged through shared experiences. In addition to tracking the kayak trip, the author also offers a poignant account of adopting his son from Nepal and details fascinating medical advances concerning neuroplasticity, the brain's capacity to change. More than a story about a blind man converting the improbable to the possible, this volume provides a powerful testament to the human spirit, concluding with a challenge to readers to take the Pledge of No Barriers. Guaranteed to inspire." —Brenda Barrera, Booklist