The Man I Never Met: A Memoir (Hardcover)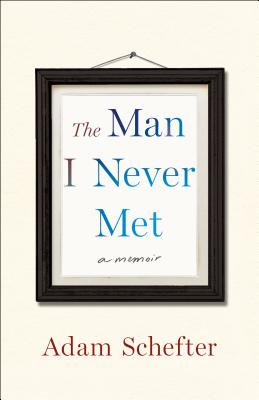 Description
---
A powerful true story of loss and hope by one of the biggest names in sports media, Adam Schefter's The Man I Never Met.

On September 11, 2001, Joe Maio went to work in the north tower of the World Trade Center. He never returned, leaving behind a wife, Sharri, and 15-month old son, Devon. Five years later, Sharri remarried, and Devon welcomed a new dad into his life.

For thousands, the whole country really, 9/11 is a day of grief. For Adam and Sharri Maio Schefter and their family it's not just a day of grief, but also hope. This is a story of 9/11, but it's also the story of 9/12 and all the days after. Life moved on. Pieces were picked up. New dreams were dreamed. The Schefters are the embodiment of that.

The Man I Never Met will give voice to all those who have chosen to keep living. It's gratifying and beautiful. But also messy and hard. Like most families. Except that one day every year history comes roaring back. How do you embrace that? How do you honor that?

This book is also a peek at Adam Schefter ("Schefty"), the man behind the headlines and injury reports; a real person who has a real family. It will follow in the path of other ESPN books by Tom Rinaldi and the late Stuart Scott – books that have transcended sport to examine the raw emotion of life.
About the Author
---
ADAM SCHEFTER is one of the most influential voices in football today. He is ubiquitous across all of ESPN's platforms—TV, radio, and digital. And his more than 7M Twitter followers are the most of any personality in football—player, coach, or journalist. He lives in New York.

Michael Rosenberg is a senior writer at Sports Illustrated and author of the critically acclaimed War As They Knew It, and the collaborator on Joe Buck's memoir, Lucky Bastard.
Praise For…
---
National Bestseller

"A courageous story. And the Schefters tell it magnificently. Highly recommended for all collections, this is a captivating account that readers won't be able to put down." —Library Journal

"Schefter's book is affecting not only for the story it tells of how the author learned to honor his wife's husband as 'the fifth member of [his] family,' but also for how it shows a man growing into a mature understanding of the true meaning of love and sacrifice. An unexpectedly moving memoir." —Kirkus Reviews

"Part character study, part examination of what can be gained through loss. And it's all heart and hope, a captivating and deeply personal tale about the transformative power of love." —AP News

A brave, inspiring story of two men of different fates, never meeting, yet proving the connectivity of life through the overwhelming power of love. A fresh and triumphant take on the aftermath of 9/11." —Mitch Albom, author of Tuesdays With Morrie

"This is a story every American should read, a story that unifies and reminds us of so much that we share. Adam has crafted a wonderful, deeply personal account that shows that even after tragedy, there is light, hope, and love. A terrific book!" —Tony Dungy, Super Bowl-winning coach and author of Quiet Strength

"Every good life makes its foundation on a bedrock of gratitude. This is a story that draws out the fundamentals of good living and makes you glad to be alive." —Kelly Corrigan, bestselling author of The Middle Place and Glitter and Glue.

"A refreshingly honest portrayal of love after loss and a beautiful reminder of the magic life brings when we open ourselves up to it." —Marie Tillman, Co-Founder of The Pat Tillman Foundation, Founder & CEO Mac & Mia, author of The Letter: My Journey Through Love, Loss, and Life.

"Schefter successfully communicates his joy in finding love and family, and in a friendship with a man he never knew. " —Publishers Weekly