The Witch and the Vampire: A Novel (Hardcover)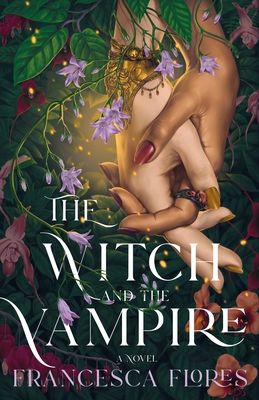 Description
---
Francesca Flores's The Witch and the Vampire is a queer Rapunzel retelling where a witch and a vampire who trust no one but themselves must journey together through a cursed forest with danger at every turn.

Ava and Kaye used to be best friends. Until one night two years ago, vampires broke through the magical barrier protecting their town, and in the ensuing attack, Kaye's mother was killed, and Ava was turned into a vampire. Since then, Ava has been trapped in her house. Her mother Eugenia needs her: Ava still has her witch powers, and Eugenia must take them in order to hide that she's a vampire as well. Desperate to escape her confinement and stop her mother's plans to destroy the town, Ava must break out, flee to the forest, and seek help from the vampires who live there. When there is another attack, she sees her opportunity and escapes.

Kaye, now at the end of her training as a Flame witch, is ready to fulfill her duty of killing any vampires that threaten the town, including Ava. On the night that Ava escapes, Kaye follows her and convinces her to travel together into the forest, while secretly planning to turn her in. Ava agrees, hoping to rekindle their old friendship, and the romantic feelings she'd started to have for Kaye before that terrible night.

But with monstrous trees that devour humans whole, vampires who attack from above, and Ava's stepfather tracking her, the woods are full of danger. As they travel deeper into the forest, Kaye questions everything she thought she knew. The two are each other's greatest threat—and also their only hope, if they want to make it through the forest unscathed.
About the Author
---
Francesca Flores is a writer, traveler and linguist. Raised in Pittsburgh, she read every fantasy book she could get her hands on and started writing her own stories at a young age. She began writing Diamond City while working as a corporate travel manager. When she's not writing or reading, Francesca enjoys traveling, dancing ballet and jazz, practicing trapeze and contortion, and visiting parks and trails around San Francisco, where she currently resides.
Praise For…
---
"Expansive and easy to imagine.. Flores presents a new twist on the classic fairy tale Rapunzel, braiding together a sapphic love story, vampires, and vampire-hating witches." - Booklist

"This is perfect for fans of vampire novels.. Readers of paranormal romance or fairy-tale retellings will likely enjoy this quick read." - School Library Journal

"This incredible book is full of everything you'll ever need—a lush, interesting world, action, incredible character work, and, of course, witches and vampires galore. I had a fantastic time and I couldn't put it down." - Jessica Lewis, author of Bad Witch Burning

"An enchanting world with fast-paced action, plenty of twists, and a sweet romance at the center. For anyone who wished Tangled had been a little more dark and a lot more gay." - Sonia Hartl, author of The Lost Girls

"The Witch and the Vampire casts a pulse-pounding spell on readers from the start and never relents. Its magic lies in the complex exploration of self, how family and ideological differences play a role in defining it, and the healing nature of sweet, patient love. I kept rooting for Ava and Kaye to not only mend their broken friendship, but also realize they were exactly what the other had been waiting for. I'm on Team KAVA for life." - Amparo Ortiz, author of Blazewrath Games

"Flores conjures a bewitchingly atmospheric world of deadly magic, ancient rivalries, and cursed forests underpinned by a sumptuous, slow-burn romance that puts a fresh spin on the canon of witches and vampires." - Amelie Wen Zhao, author of the Blood Heir trilogy

"Ava and Kaye's gentle romance, which believably unfolds amid their mutual distrust, invests readers in their plight" - Publishers Weekly