Life in the Balance (Hardcover)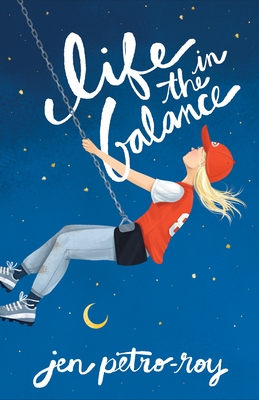 $16.99
Email or call for price
Description
---
Veronica struggles to balance softball, friends, and family turmoil in this new honest and heartfelt middle grade novel by Jen Petro-Roy, Life in the Balance.

Veronica Conway has been looking forward to trying out for the All-Star softball team for years. She's practically been playing the game since she was a baby. She should have this tryout on lock.

Except right before tryouts, Veronica's mom announces that she's entering rehab for alcoholism, and her dad tells her that they may not be able to afford the fees needed to be on the team.

Veronica decides to enter the town talent show in an effort to make her own money, but along the way discovers a new hobby that leads her to doubt her feelings for the game she thought she loved so much.

Is her mom the only one learning balance, or can Veronica find a way to discover what she really wants to do with her life?
About the Author
---
Jen Petro-Roy is a former teen librarian, an obsessive reader, and a trivia fanatic. She lives with her husband and two young daughters in Massachusetts. She is the author of P.S. I Miss You, Good Enough, and You Are Enough: An Inclusive Guide to Body Image and Eating Disorder Recovery. Jen is an eating disorder survivor and an advocate for recovery.
Praise For…
---
"Marvelous...Hand this to readers who don't mind a few tears on their way to a happy ending." —School Library Journal, starred

"Petro-Roy...writes with clarity and avoids suggesting that alcoholism is easy to manage or to live with. Given that Veronica's a sixth-grader whose family is in distress, it seems natural that friendship lies at the heart of this very readable story." —Booklist

"Heartfelt...Plenty of honesty here...and much to cheer for as Veronica settles into understanding her family challenge and how to meet it." —Bulletin of the Center for Children's Books (BCCB)

"A vitally important story about the gold and light we find in the broken places...Whatever your family dynamics, whether your interests lie on the ball field or the stage, you'll find compassion singing through every page of this beautiful book." —Sarah Allen, author of What Stars are Made Of

Praise for Jen Petro-Roy:

"Every library needs Good Enough on its shelves. Lyrical, funny, honest and brave, this is a book that will save lives." —Katherine Applegate, New York Times-bestselling author of Wishtree and Crenshaw, on Good Enough

"Petro-Roy, an eating disorder survivor, offers an intimate and realistic portrayal of Riley's destructive thinking patterns as well as her victories and setbacks. A powerful, well-told, and authentic story." —Publishers Weekly on Good Enough

"[A] supportive, honest, and empowering novel about mental health." —Booklist on Good Enough

"P.S. I Miss You is so moving! Evie's quiet strength and fierce determination are an inspiration. " —Ann M. Martin, author of Rain Reign and the Baby-Sitters Club

"A heartbreaking but empowering story that's impossible to forget. . . . Readers will love Evie's smart, funny voice and will recognize themselves in her worries, her questions, and her hopes." —Kate Messner, author of The Seventh Wish on P.S. I Miss You

"A touching story of sisterly devotion and self-discovery. Readers will cheer on Jen Petro-Roy's sweet, strong protagonist as she overcomes challenging family circumstances to embrace her own identity." — Barbara Dee, author of Star-Crossed, on P.S. I Miss You

"Jen Petro-Roy has created a character with the potential to be as iconic as Judy Blume's Margaret." —Erin Dionne, author of Notes from an Accidental Band Geek on P.S. I Miss You