Maker Comics: Live Sustainably! (Paperback)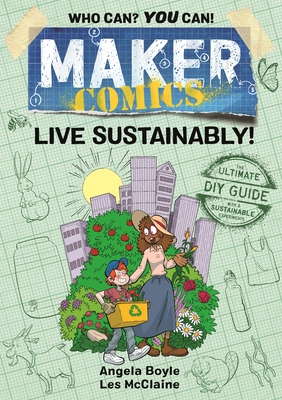 $14.99

Not in Stock... Available to ship in 3-5 days​
Description
---
Maker Comics: Live Sustainably! is a step-by-step DIY guide that will help kids roll up their sleeves and get making with confidence! Inside this graphic novel you'll find instructions for eight sustainability projects.

After Isaac is caught vandalizing a sign at his local community garden, he's put to work under the wing of one of the gardeners, Aurora. But Isaac's time with Aurora isn't just about growing vegetables! As they make useful projects together for the garden and for Isaac's home, Aurora teaches Isaac about the natural and human-built systems we're all a part of, how our decisions and lifestyles impact the planet, and how even a kid can make better choices to live more sustainably!
About the Author
---
Angela Boyle is a natural science illustrator and cartoonist from Bellingham, Washington. She received an MFA from The Center for Cartoon Studies in 2016. She runs the natural science comic anthology Awesome 'Possum. The Brazilian tapir is her favorite animal, only partly because it has a mohawk. You can read more about Angela on her website.

Les McClaine decided he wanted to draw comics when he was eight years old and has been doing it ever since. He is the Eisner-nominated author of "Johnny Crossbones," "Life With Leslie," "Repeat Until Death," and "Highway 13." He has also illustrated numerous comics including "The Tick" and "The Middleman." In 2008, "The Middleman" was made into a TV series for ABC Family. He lives in Portland, Oregon in a little yellow house with his wife Crystal and their cat Theodore.