Erosion: Essays of Undoing (Paperback)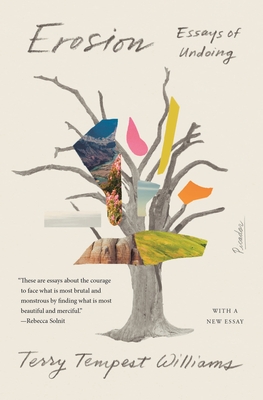 Description
---
Timely and unsettling essays from an important and beloved writer and conservationist

In Erosion, Terry Tempest Williams's fierce, spirited, and magnificent essays are a howl in the desert. She sizes up the continuing assaults on America's public lands and the erosion of our commitment to the open space of democracy. She asks: "How do we find the strength to not look away from all that is breaking our hearts?"

We know the elements of erosion: wind, water, and time. They have shaped the spectacular physical landscape of our nation. Here, Williams bravely and brilliantly explores the many forms of erosion we face: of democracy, science, compassion, and trust. She examines the dire cultural and environmental implications of the gutting of Bear Ears National Monument—sacred lands to Native Peoples of the American Southwest; of the undermining of the Endangered Species Act; of the relentless press by the fossil fuel industry that has led to a panorama in which "oil rigs light up the horizon." And she testifies that the climate crisis is not an abstraction, offering as evidence the drought outside her door and, at times, within herself.

These essays are Williams's call to action, blazing a way forward through difficult and dispiriting times. We will find new territory—emotional, geographical, communal. The erosion of desert lands exposes the truth of change. What has been weathered, worn, and whittled away is as powerful as what remains. Our undoing is also our becoming.

Erosion is a book for this moment, political and spiritual at once, written by one of our greatest naturalists, essayists, and defenders of the environment. She reminds us that beauty is its own form of resistance, and that water can crack stone.
About the Author
---
Terry Tempest Williams is the award-winning author of The Hour of Land: A Personal Topography of America's National Parks; Refuge: An Unnatural History of Family and Place; Finding Beauty in a Broken World; and When Women Were Birds, among other books. Her work is widely taught and anthologized around the world. A member of the American Academy of Arts and Letters, she is currently the Writer-in-Residence at the Harvard Divinity School and divides her time between Cambridge, Massachusetts and Castle Valley, Utah.
Praise For…
---
Best of Fall 2019 at Newsweek, The Chicago Tribune, Kirkus Reviews, and Literary Hub
A Top Ten Book of October at The Washington Post
One of "5 Boss Lady Books of Nonfiction" at BookRiot
Best Spiritual Books of 2019, Spirituality & Practice

"Williams makes a poignant connection between the political and the personal . . . If Williams's haunting, powerful and brave book can be summed up in one line of advice it would be this: try to stare down the grief of everyday life, speak out and find solace in the boundless beauty of nature."
—Diane Ackerman, The New York Times Book Review

"Erosion is a spiritual and profound anthology that could not be more appropriate for our time."
—Juliana Rose Pignataro, Newsweek

"Williams is one of the great chroniclers of the American west, alongside Wallace Stegner (1909–93) and Edward Abbey (1927–89), and her shifting tonal and syntactical terrain echoes the place she writes about—'an erosional landscape sculpted by wind, water, and time' . . . She invites us in this harrowing but hopeful book to locate 'joy within the struggle . . . To feel the pain . . . and not look away.'"
—Joanna Pocock, London Review of Books

"In her indispensable new collection, [Williams] . . . remains a most urgent voice on the preservation of the American wilderness . . . and Williams shares all manner of her sage wisdom. Perhaps most important, 'We need not lose hope, we just have to know where it dwells.' Faith might be hard to find but these achingly lyrical pages are a place to start."
—Joshua Wheeler, O Magazine

"Williams is a master . . . Her voice is always clear, and she gives us a reason to follow her example: refusing to look away from the degradation, in hopes of preserving the wild places we have left."
—Heather Hansman, Outside Magazine

"Weaves together personal experiences with the larger world in order to produce shattering emotional truths . . . [Williams] delivers . . . something permanent and beautiful in the face of wanton destruction."
—Lorraine Berry, Minneapolis Star Tribune

"Beautiful . . . stunning and heartbreaking . . . a hybrid of Annie Dillard's The Writing Life and Joan Didion's A Year of Magical Thinking. [Williams has an] incredible ability to describe the tininess of human beings in relation to the majesty of human nature."
—Elisabeth Egan, The New York Times Book Review Podcast

"Williams bravely and brilliantly explores the many forms of erosion we face: of democracy, science, compassion, and trust . . . Erosion is a book for this moment, political and spiritual at once. Williams reminds us that beauty is its own form of resistance, and that water can crack stone."
—Michael Svoboda, Yale Climate Connections

"Terry Tempest Williams is a voice of hope in the dark. In a time where climate change and greed have ravaged everything many of us hold dear, Williams gives us the words to understand it. She makes it easier to feel both the sacredness and pain of grief for an ever-imperiled natural world."
—Gretchen Lida, BookRiot

"Williams marshals dazzling prose to summon activists to resist and revolt."
—Kitty Kelley, Washington Independent Review of Books

"A must for anyone who loves the desert."
—Emily Temple, Lit Hub

"Explosive and unflinching . . . Erosion is a call to action, a cry in the dark . . . written with the hope . . . that we might honor the earth, our only home, as she continues, even in her diminished state, to teach us."
—Pam Houston, Alta

"An apostle of life and earth and a soul-revving teller of true stories, Williams (The Hour of Land, 2016) brings lyricism, candor, mystery, and factual exactitude to the deeply affecting essays collected here . . . Williams' exquisite testimony of wonder and wisdom is vitalizing and crucial."
—Booklist, starred review

"In a collection of passionate, galvanizing essays, activist and teacher Williams shares her intimate connection to the as-yet untamed landscapes of the American West . . . Williams writes with a poetic optimism . . . Stirring."
—Publishers Weekly, starred review

"This anthology of grief, anger, and even hope capably reflects Williams' wise voice."
—Kirkus

"These essays are wide ranging and heartfelt and will attract dedicated environmentalists."
—David R. Conn, Library Journal

"These essays are a joy to read. Terry Tempest Williams is a wise and fierce defender of the wild Earth."
—Leslie Marmon Silko, author of The Turquoise Ledge

"Terry Tempest Williams's voice in the clamor is like a hot desert wind blowing away the litter in a crowded room and leaving behind only what has weight, what is essential. These are essays about the courage to face what is most brutal and monstrous, by finding what is most beautiful and merciful."
—Rebecca Solnit, author of Call Them by Their True Names

"Luminous, fearless, brutally honest. But with this latest book, Williams takes her spiritual love of the American West—along with her grief, anger and exasperation at what we continue to do to this place—to a new level. If John Muir ever wrote like this, most of the West would be in wilderness protection by now. As well, she knows her way to the human heart."
—Timothy Egan, author of The Immortal Irishman

"Terry Tempest Williams has rewritten the rules for the way we must engage the natural world and each other. Erosion is both a shout from the edge of what we were and a beckoning to what we must become. Pick up your courage and this book; be prepared to take notes—and action."
—Alexandra Fuller, author of Quiet Until the Thaw

"Terry Tempest Williams is our great activist laureate. Working out of the lineage of Dickinson, O'Keeffe, D. H. Lawrence, and, later, Abbey and Peacock, she is nonetheless singular and extraordinarily original. She is rooted as juniper yet ephemeral as a sand dune. The forces that have eroded her are rapture and grief. What remains is elemental beauty."
—Rick Bass, author of For a Little While

"These are the most dangerous of all days for humans on Earth, and Erosion is the book for our time. Writing on the edge of the sacred, Terry Tempest Williams's message bears the power and emotional gifts of a close call with a charging grizzly. There are no stray words. Terry writes with a purity glimpsed in certain outcrops of crystalline rock or the waters filling a chain of alpine lakes. I believe there is no more important writer working today."
—Doug Peacock, author of In the Shadow of the Sabertooth