Into the Amazon: The Life of Cândido Rondon, Trailblazing Explorer, Scientist, Statesman, and Conservationist (Hardcover)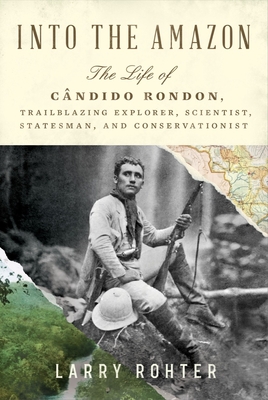 Description
---
A thrilling biography of the Indigenous Brazilian explorer, scientist, stateseman, and conservationist who guided Theodore Roosevelt on his journey down the River of Doubt.
Cândido Rondon is by any measure the greatest tropical explorer in history. Between 1890 and 1930, he navigated scores of previously unmapped rivers, traversed untrodden mountain ranges, and hacked his way through jungles so inhospitable that even native peoples had avoided them—and led Theodore Roosevelt and his son, Kermit, on their celebrated "River of Doubt" journey in 1913–14. Upon leaving the Brazilian Army in 1930 with the rank of a two-star general, Rondon, himself of indigenous descent, devoted the remainder of his life to not only writing about the region's flora and fauna, but also advocating for the peoples who inhabited the rainforest and lobbying for the creation of a system of national parks. Despite his many achievements—which include laying down a 1,200-mile telegraph line through the heart of the Amazon and three nominations for the Nobel Peace Prize—Rondon has never received his due. Originally published in Brazil, Into the Amazon is the first comprehensive biography of his life and remarkable career.
About the Author
---
Journalist and author Larry Rohter was the Rio de Janeiro bureau chief for the New York Times from 1998 to 2008, and held the same role at Newsweek from 1977 to 1982. He divides his time between the US and Brazil.
Praise For…
---
An exhaustively researched account of yet another vital, challenging character generally unknown to the English-speaking world.... Into the Amazon is important reading.... Rohter's crisp biography is a welcome addition to the new, more inclusive canon.

— Rachel Slade - New York Times Book Review

Rohter's subject emerges as a man ahead of his time. . . . In showcasing this 'humanist, nonviolent, multicultural template,' Into the Amazon offers a valuable model for the future. The world needs more Rondons—a truth this important biography reinforces on every page.

— Oliver Balch - Times Literary Supplement

A welcome, vivid portrait of a historical figure who deserves much wider recognition outside his native country.
— Kirkus Reviews, starred review

Rohter's thorough research and eye for detail make for a vivid telling of a remarkable tale. This is a trip well worth taking.
— Publishers Weekly, starred review

In Larry Rohter, Cândido Rondon has finally found not just a worthy biographer but a brilliant one. An exceptionally skilled researcher and a dazzling writer, Rohter unearthed vital new information that sweeps readers up in astonishing tales of discovery, courage, and humanity. This is an irresistible read.
— Candice Millard, author of River of Doubt: Theodore Roosevelt's Darkest Journey

Larry Rohter has written a masterful biography of Cândido Rondon, one of the most extraordinary characters to emerge out of the Americas in the last century and a half. An heroic figure of epic proportions, Rondon is synonymous with the exploration of the Brazilian Amazon. But he was much more than that. One part John Muir, one part Alexander von Humboldt and one part Mahatma Gandhi, Rondon also left behind a rare personal legacy of humanism that feels both hugely relevant and sorely lacking today, with the fate of the Amazon and its Indigenous inhabitants hanging in the balance as never before. Into the Amazon is beautifully written, impressively researched, and makes for compelling reading. Larry Rohter has performed a great service by bringing Rondon, unsung for too long outside of Brazil, to a much wider audience. !Viva Rondon!

— Jon Lee Anderson, author of Che: A Revolutionary Life

Into the Amazon is an unparalleled gift to anyone who wants to understand the rainforest, Brazil, early environmentalism, or the struggle for Indigenous land rights. Larry Rohter's rigorous and eloquent account of Cândido Rondon's life provides a window into the colonization of the Amazon, and a portrait of a soldier whose vision for human decency and nature protection is only gaining in relevance as we navigate the twin crises of climate change and biodiversity loss.

— John W. Reid, coauthor of Ever Green: Saving Big Forests to Save the Planet