Arrangements in Blue: Notes on Loving and Living Alone (Hardcover)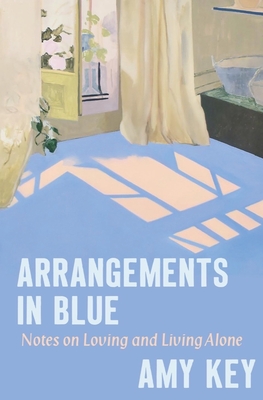 $28.00

Not in Stock... Available to ship in 3-5 days
Description
---
Most Anticipated Books of 2023: The Millions, The Rumpus

"The poet Amy Key's first book might be the most hyped memoir of 2023 (or at least a close second to Spare)… This raw, gorgeous, pulsing memoir is…the harbinger of a real talent." —Laura Hackett, Sunday Times [UK]



Amy Key—a writer "of rare and strange magic" (Guardian)—probes the art of living without romance in this soul-stirring debut.
When British poet Amy Key was growing up, she envisioned a life shaped by love—and Joni Mitchell's album
Blue
was her inspiration. "
Blue
became part of my language of intimacy," she writes, recalling the dozens of times she played the record as a teen, "an intimacy of disclosure, vulnerability, unadorned feeling that I thought I'd eventually share with a romantic other." As the years ticked by, she held on to this very specific idea of romance like a bottle of wine saved for a special occasion.
But what happens when the romance we are all told will give life meaning never presents itself??Now single in her forties, Key explores the sweeping scales of romantic feeling as she has encountered them, using the album
Blue
as an expressive anchor: from the low notes of loss and unfulfilled desire—punctuated by sharp, discordant feelings of jealousy and regret—to the deep harmony of friendship, and the crescendos of sexual attraction and self-realization.
Finding solace in Mitchell's songs, Key plumbs
Blue
's track list for themes that resonate with her heart's seasons. Listening to the song "California," she explores the mixed emotions that come with traveling alone in a world built for couples; she juxtaposes the lonely lyrics of "My Old Man" with the pleasurable art of curating a perfect apartment for one; and with the utmost tenderness, she parses out her decision to not have children with the eloquent "Little Green."
Mapping the evolution of her early conceptions of love through her adulthood, Key offers a tender and nakedly candid celebration of the many forms of intimacy that often go unnoticed. An essential work for both the single and the partnered,
Arrangements in Blue
is a bold manual for building a life on your own terms.
About the Author
---
Amy Key is a poet and essayist based in London. She is the author of two collections of poetry, Luxe and Isn't Forever. Arrangements in Blue was inspired by her viral Granta essay, "A Bleed of Blue."
Praise For…
---
Courageous... [A] bracingly honest read.
— Alexis Burling - San Francisco Chronicle

The poet Amy Key's first book might be the most hyped memoir of 2023 (or at least a close second to Spare)… [Key's] yawning, cavernous want for love is expressed with a surprisingly sensual, luscious poeticism… This raw, gorgeous, pulsing memoir is…the harbinger of a real talent.
— Laura Hackett - Sunday Times [UK]

[Key's] nonfiction debut is a courageously honest meditation on her partnerless life, and her inward and outward search for all the things a soulmate was supposed to deliver. Key's deeply introspective quest is not just a hunt for what's missing, but for what she has overlooked… [As] Key's book demonstrates, there should be no shame in desiring intimacy, or seeking it outside the confines of romance. And those of us who experience long-term singleness need a broader emotional palette than blue.
— Emma John - The Guardian

Key's background as a poet is evident: her writing is gorgeously lyrical, but she is also unafraid to share the colder, harsher parts of being single. Arrangements in Blue is a short read, but each page feels so full and worth savouring. I already have friends who have sent me screenshots of the parts that made them feel so seen. And I have sent them mine.

— Hollie Richardson - The Guardian

[Arrangements in Blue] asks how to build a good life when you don't have what you want—and how to do so without denying what it is that you want, or the possibility that what you want may come along.

— Hannah Rosefield - New Republic

[A] deeply, at times achingly personal, meditation . . . Illuminating, instructive, and unsettling, [Key's] book examines sexual attraction, unrequited love, strategies to numb rejection, and the possibilities of intimacy and fulfillment in a life lived in the absence of romantic love — even as she recognizes that 'if you ask yourself hard questions, you must be prepared not to find an answer.
— Glenn Altschuler - Psychology Today

Key's honesty in confronting the highs and lows of her emotional history imbues this memoir with all the complexities of authentic love, which does not flee from the bad even as it celebrates the good… Key's memoir is impressively balanced in the perceptions that it includes… In lyrical prose evocative of the bigness and smallness of existence, Arrangements in Blue demonstrates that it is our own opinion of ourselves that matters most.

— Gianni Washington - Chicago Review of Books

[A] lyrical meditation on the small moments of domesticity, rest and bliss that Key experiences as an independent woman and artist that's simultaneously complicated by the earnest and ceaseless desire to find a partner and become a mother. Key's prose melds the investigative with the personal . . . 'Arrangements in Blue' feels more akin to a Joni Mitchell song—strong as it is tentative, wavering as it is hard-hitting, an essay collection whose thoughts rise and fall like ocean waves with Key examining both the wreckage and the treasures that find their way to shore.
— Sadaf Ferdowsi - NewCity

By embracing a vulnerability that matches Mitchell's, Key reveals the full spectrum of human feeling with words honed as carefully as poetry . . . [Arrangements in Blue is] a window into the way one woman has moved through a world that's quick to define women by their relationships. It's also an ode to the ways music can give voice to our emotions, sometimes shape-shifting over years to remain as relevant as the first time we hit play.

— Carla Jean Whitley - BookPage

Looking back at her past romantic longings and collisions, Key considers the (inflated?) value of romantic love and finds her contradictory feelings on the matter reflected in Mitchell's lyrics. There's nothing poor-me about Arrangements in Blue; in Key's hands, solitary life becomes more capacious—and more complicated—than I ever thought possible.

— Sophia M. Stewart, The Millions, "Most Anticipated: The Great 2023 Book Preview"

British poet and essayist Key (Isn't Forever) takes an intimate, idiosyncratic look at single life in her evocative first memoir . . . Filled with lyrical turns of phrase, this insightful take on living solo will appeal to poets, dreamers, and anyone marching to the beat of their own drum. It's a lush and moving memoir.

— Publishers Weekly, starred review

Straddling positivity and cynicism, pride and despair, Key's artful inquiry asks us to question our focus on romantic love and consider all that remains outside of it and all that could flourish there, if we let it.
— Booklist

A beautiful, painful, liberating book. Amy Key writes with such tenderness and insight about a life without romantic love at its centre, exacting as to its impoverishments, exultant over its many and unexpected riches.
— Olivia Laing, author of The Lonely City

Profound and poetic, vulnerable yet brave, I devoured Amy Key's memoir about love, loss, memory and hope. An incredible writer, a stunning debut.
— Lisa McGee, creator of Derry Girls

There is a whole life pulsing within these pages, written with both clarity and eloquence, a glittering brightness that glints like stars in a navy velvet sky. A book to be read in astonishment and in admiration. Bewitching.
— Doireann Ní Ghríofa, author of A Ghost in the Throat

Amy Key's extraordinary Arrangements in Blue isn't merely a commentary on Joni Mitchell's Blue, but something bolder, more personal and shape-shafting, in line with Joni's own art in that it takes no starting point for granted.

— Paul Lisicky, author of Later: My Life at the Edge of the World

From grief to anger to full-throttled joy, Amy Key hits every note of feeling with perfect pitch... An absolutely gorgeous work.
— Heather Christle, author of The Crying Book

Amy writes with rare integrity, courage and style about the pursuit of love?–?it's somehow both consoling and provoking, and a beautiful and necessary book.
— Sarah Perry, author of The Essex Serpent