Ali: A Life (Paperback)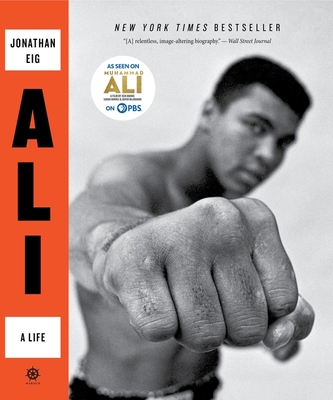 List Price: $21.99
Our Price: $16.99
(Save: $5.00 23%)
Description
---
NEW YORK TIMES BESTSELLER | Winner of the 2018 PEN/ESPN Award for Literary Sports Writing | Winner of The Times Sports Biography of the Year | The definitive biography of an American icon, from a best-selling author with unique access to Ali's inner circle.

"As Muhammad Ali's life was an epic of a life so Ali: A Life is an epic of a biography . . . for pages in succession its narrative reads like a novel––a suspenseful novel with a cast of vivid characters." –– Joyce Carol Oates, New York Times Book Review

Muhammad Ali was born Cassius Clay in racially segregated Louisville, Kentucky, the son of a sign painter and a housekeeper. He went on to become a heavyweight boxer with a dazzling mix of power and speed, a warrior for racial pride, a comedian, a preacher, a poet, a draft resister, an actor, and a lover. Millions hated him when he changed his religion, changed his name, and refused to fight in the Vietnam War. He fought his way back, winning hearts, but at great cost.

Jonathan Eig, hailed by Ken Burns as one of America's master storytellers, sheds important new light on Ali's politics, religion, personal life, and neurological condition through unprecedented access to all the key people in Ali's life, more than 500 interviews and thousands of pages of previously unreleased FBI and Justice Department files and audiotaped interviews from the 1960s. Ali: A Life is a story about America, about race, about a brutal sport, and about a courageous man who shook up the world.
About the Author
---
JONATHAN EIG is the author of four critically acclaimed books, two of them New York Times bestsellers. He was born in Brooklyn and grew up in Monsey, New York. Eig is a former staff writer for the Wall Street Journal, and he remains a contributing writer there. He has written for the New York Times, The New Yorker, Esquire, the Washington Post, and other publications. He has appeared on Fresh Air with Terry Gross, The Daily Show with Jon Stewart, and in two Ken Burns films for PBS. He is currently working with Burns to develop a documentary on Muhammad Ali. He lives in Chicago, IL.
Praise For…
---
Winner of the 2018 PEN/ESPN Award for Literary Sports Writing Winner of The Times Sports Biography of the Year  "Finally Muhammad Ali has a biography as big, complex, and memorable as the man himself—or as close as any book can come. From panoramic views of Ali's place in racial, political, and cultural conflicts, to gripping accounts of his fights, to vivid close-ups of his outsized personality and relationships based on new sources, Ali will fascinate you from beginning to end." —T.J. Stiles, author of Custer's Trials and The First Tycoon "Some people want to grow up to be an astronaut. Or maybe even president. Or heavyweight champion of the world. I always wanted to be a storyteller. The hardest story to tell is one that's been told and told well before. In Ali, Jonathan Eig, a fearless reporter, as relentless on his turf as Muhammad Ali ever was within the ring, has taken on one of 20th century America's biggest, baddest, most important stories and told it bigger and badder than it's ever been told before. Ali: A Life floats like a butterfly and stings likes a bee. Stop the fight. It's over. Eig in a knockout."—Jane Leavy, author of Sandy Koufax and The Last Boy: Mickey Mantle and the End of America's Childhood   "Ali is a marvelous biography - deeply reported, illuminating, dripping with detail chapter after chapter—in every way worthy of one of the great figures of 20th century America." —David Maraniss, author of When Pride Still Mattered: A Life of Vince Lombardi   "Finally, after so many works focusing on this fight or that, the whole man, the whole life, is presented here. And what a revelation it is—to be able to see how this remarkable man was shaped by his world, and how that world was, in turn, profoundly influenced by this exceptional and complicated kid from Louisville. Bravo!"  —Ken Burns "A warm, compelling portrait of a winsomely enduring man. Eig's richly impressive roster of interviews informs an authoritatively critical biography that is both punchy and sure-footed." —David J. Garrow, Pulitzer Prize-winning author of Bearing the Cross and Rising Star "Jonathan Eig's Ali is a tour de force! It is an independent, insightful and masterful assessment of 'The Greatest!' Eig's biography puts flesh and bone on Ali's fuller humanity. It is a must read for sports fans, boxing fans, students of American history, culture and religion." —Dr. Randal Maurice Jelks, author of Benjamin Elijah Mays, Schoolmaster of the Movement "A monumental study the scope of which has not been matched. An utterly absorbing and richly detailed account of the most charismatic and controversial athlete of the 20th century."—Mike Silver, author of The Arc of Boxing "[A] richly researched, sympathetic yet unsparing portrait."—Joyce Carol Oates, New York Times Book Review "[A] relentless, image-altering biography."—Wall Street Journal "The first comprehensive biography worthy of this titanic figure. The author of acclaimed books on Lou Gehrig and Jackie Robinson, Eig weaves together Ali's athletic feats, cultural significance and personal journey. Fortified by hundreds of revealing interviews, 'Ali' vigorously narrates the —