The Secret History (Vintage Contemporaries) (Paperback)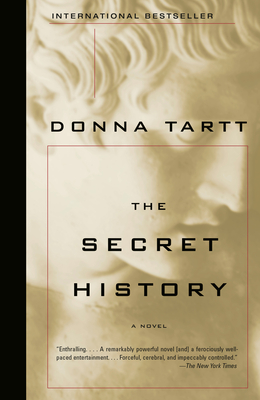 Description
---
INTERNATIONAL BESTSELLER • A contemporary literary classic and "an accomplished psychological thriller ... absolutely chilling" (Village Voice), from the Pulitzer Prize-winning author of The Goldfinch.

Under the influence of their charismatic classics professor, a group of clever, eccentric misfits at an elite New England college discover a way of thinking and living that is a world away from the humdrum existence of their contemporaries. But when they go beyond the boundaries of normal morality their lives are changed profoundly and forever, and they discover how hard it can be to truly live and how easy it is to kill.
About the Author
---
Donna Tartt won the 2014 Pulitzer Prize for her most recent Novel. The Goldfinch Her novelsl The Secret History and The Little Friend were also international bestsellers. She was born in Greenwood, Mississippi, and is a graduate of Bennington College.
Praise For…
---
"The Secret History succeeds magnificently. . . . A remarkably powerful novel [and] a ferociously well-paced entertainment. . . . Forceful, cerebral, and impeccably controlled." --The New York Times

"An accomplished psychological thriller ....  Absolutely chilling .... Tartt has a stunning command of the lyrical." —The Village Voice

"Beautifully written, suspenseful from start to finish." —Vogue

"A haunting, compelling, and brilliant piece of fiction .... Packed with literary allusion and told with a sophistication and texture that owes much more to the nineteenth century than to the twentieth." —The Times (London)

"Her writing bewitches us .... The Secret History is a wonderfully beguiling book, a journey backward to the fierce and heady friendships of our school days, when all of us believed in our power to conjure up divinity and to be forgiven any sin." —The Philadephia Inquirer

"A huge, mesmerizing, galloping read, pleasurably devoured .... Gorgeously written, relentlessly erudite." –Vanity Fair