Women in Dark Times (Hardcover)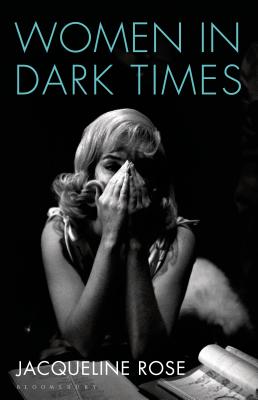 $28.00
Not in Stock... Available to ship in 3-5 days​
Description
---
Jacqueline Rose's heroines could not appear more different from each other: revolutionary socialist Rosa Luxemburg; German-Jewish painter Charlotte Salomon, persecuted by family tragedy and Nazism; film icon and consummate performer Marilyn Monroe.
Yet historically these women have a shared story to tell as they blaze a trail across some of the most dramatic events of the last century--revolution, totalitarianism, the American dream. Enraged by injustice, they are each in touch with what is most painful about being human, bound together by their willingness to bring the unspeakable to light.
Taking the argument into the present are today's women, courageous individuals involved in some of the cruelest realities of our times. Grappling with the existence of honor killing--notably through the stories of Shafilea Ahmed, Fadime Sahindal, and Heshu Yones--Rose argues that the struggles of feminism are far from done. In the final three chapters, Rose celebrates the work of three brilliant contemporary artists--Esther Shalev-Gerz, Yael Bartana, and Thérèse Oulton--whose work grows out of an unflinching engagement with all that is darkest in the modern world.
Women in Dark Times shows us how these visionary women offer a new template for feminism. Taking their stand against the iniquities of our times, they tread a path between public and private pain, confronting us with what we need most urgently but also often cannot bear to see.
About the Author
---
Jacqueline Rose is the author of numerous books about feminism, psychoanalysis, literature and culture and the Middle East, including Women in Dark Times, The Haunting of Sylvia Plath, and The Question of Zion. She is Codirector of the Birkbeck Institute for the Humanities, cofounder of Independent Jewish Voices, and a fellow of the British Academy. Rose is a frequent contributor to the London Review of Books and The Guardian, among many other publications.
Praise For…
---
"Provocative . . . a fierce call to action, as Rose challenges women to embrace a new feminism, one that 'would have the courage of its contradictions.'" - The New Yorker
"This is the book we have been waiting for--a clarion call for us all, men and women, to be bolder and brasher in our advocacy for change but also more willing to embrace our own contradictions." - Helena Kennedy, QC
"A surfeit of elegance and intelligence." - Ali Smith, The Observer
"Formidable . . . It is impossible not to listen carefully to what Professor Rose has to say in her thought-provoking, rigorously argued writing on feminism, literature, and psychoanalysis. In Europe, she is hailed as a public intellectual--she is also acknowledged internationally . . . Rose is indubitably an intellectual of clout . . . It is a breathtaking book and a challenging read--ambitious, scholarly, and innovative, shedding dazzling light on Freud's 'dark continent' of women." - The Herald
"Rose's thesis is a measured and decisive stroke in contemporary feminist theory." - Financial Times
"A rigorously argued and at times breathtaking book . . . Many paragraphs contain a controlled explosion; her analysis of men's fear of and fascination with female sexuality, born from the boy's early proximity to the mother's body, is one of them . . . The book closes with a clarion cry: 'Women have been reasonable for far too long' . . . Her reasoning, ironically, is as tight and sinuous as a constrictor knot. It is a time to be afraid of the dark." - Frances Wilson, The Daily Telegraph
"Brings necessary depth and context to the debate . . . The book provides a valuable record of the ideologies and achievements of women whom society would rather have kept silent, and there are some devastatingly sad passages." - The Independent
"This is not an easy book but a lucid, deeply absorbing, and strangely soothing one, in the way that a friend with boundless curiosity, unflinching in the face of difficult truths, always proves more comforting and interesting than the falsely cheerful, draw-up-a-list sort. Rose offers erudite, multiple readings of the lives and work of three very different sets of three women . . . I am persuaded by Rose's argument that women remain best placed to tune in to the chronic insecurity and darkness of modern life." - Melissa Benn, New Statesman
"[F]ull of affectionately evoked details . . . The strength of Rose's essays lies in how she teases out the tangled threads in her subjects' lives." - Bookforum
"A passionate, powerful . . . manifesto for feminism." - Women's Review of Books
"Intellectual . . . [Rose] succeeds in shedding light on the unsettling yet profound work of several women--some famous, some unsung--who have searchingly explored, and fatefully confronted, humankind's murkiest instincts." - The Boston Globe
"Jacqueline Rose's book Women in Dark Times is pretty amazing." - Irvine Welsh
"Rose confronts dark times with dark and moving stories from the last century inspiring a new feminism for this one. By so doing she keeps alive the dreams of so many women from Rosa Luxemburg and Marilyn Monroe to young girls killed in the name of some perverted sense of 'honor.' Most likely a classic." - Shami Chakrabarti, Director of Liberty
"The portrait of Luxemburg is insightful, exhilarating, and inspiring . . . Her writing about Monroe is a deeply moving defense of a woman on whom the postwar United States projected its dreams and fears . . . The chapter on honor killings is superb, both Rose's dissection of misogynistic attitudes to female sexuality and her exploration of how western society views the crime . . . A book that constantly challenges the reader and forces her to engage with it. Rose's arguments are impossible to ignore." - The Irish Times