Blizzard (Hardcover)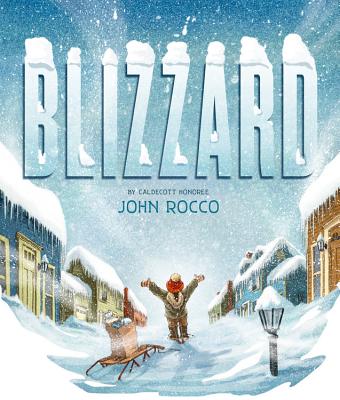 $18.99

Not in Stock... Available to ship in 3-5 days​
Description
---
Blizzard is based on John Rocco's childhood experience during the now infamous Blizzard of 1978, which brought fifty-three inches of snow to his town in Rhode Island. Told with a brief text and dynamic illustrations, the bookopens with a boy's excitement upon seeing the first snowflake fall outside his classroom window. It ends with the neighborhood's immense relief upon seeing the first snowplow break through on their street. In between the boy watches his familiar landscape transform into something alien, and readers watch him transform into a hero who puts the needs of others first. John uses an increasing amount of white space in his playful images, which include a gatefold spread of the boy's expedition to the store. This book about the wonder of a winter storm is as delicious as a mug of hot cocoa by the fire on a snowy day.
Praise for Super Hair-o and the Barber of Doom

"With a light, humorous touch, Rocco reveals that sometimes the Kryptonite is all in your head."
—-Publishers Weekly

"Bold, colorful pen-and-ink illustrations burst with power from each spread in comic-book style. This story will make a feel-good impression on budding comic book/superhero fans."
—-School Library Journal

Praise for Blackout

"The plot line, conveyed with just a few sentences, is simple enough, but the dramatic illustrations illuminate the story...Not all young readers will have experienced a blackout, but this engaging snapshot could easily have them wishing for one."
—-Kirkus Reviews (starred review)

"The colorful pictures work beautifully with the book's design. Rocco uses comic-strip panels and a brief text to convey the atmosphere of a lively and almost magical urban landscape. Great bedtime reading for a soft summer night."
—-School Library Journal (starred review)
2012 Caldecott Honor BookNew York Times Notable BookWall Street Journal Best Book of the YearPublisher's Weekly Best Book of the YearSchool Library Journal Best Book of the YearKirkus Reviews Best Book of the Year
—-
Praise for Fu Finds the Way

"Rocco's story flows smoothly and his illustrations are rich and appealing..."
—-Kirkus Reviews



About the Author
---
John Rocco (www.roccoart.com) studied illustration at Rhode Island School of Design and The School of Visual Arts. In addition to writing and illustrating his own picture books, including the New York Times best-selling and Caldecott Honor-winning Blackout, he has created all of the cover art for Rick Riordan's best-selling Percy Jackson, Kane Chronicles, and Heroes of Olympus series. He also illustrated Percy Jackson's Greek Gods. Before becoming a full-time children's book creator, he worked as an art director on "Shrek" for Dreamworks, and for Disney Imagineering. He lives in Los Angeles with his wife and daughter.




Praise For…
---
PRAISE FOR BLACKOUT

"The colorful pictures work beautifully with the book's design. Rocco uses comic-strip panels and a brief text to convey the atmosphere of a lively and almost magical urban landscape. Great bedtime reading for a soft summer night."— (starred review)

PRAISE FOR BLACKOUT

"The plot line, conveyed with just a few sentences, is simple enough, but the dramatic illustrations illuminate the story...Not all young readers will have experienced a blackout, but this engaging snapshot could easily have them wishing for one."—(starred review)

PRAISE FOR BLACKOUT

2012 Caldecott Honor BookNew York Times Notable BookWall Street Journal Best Book of the YearPublisher's Weekly Best Book of the YearSchool Library Journal Best Book of the YearKirkus Reviews Best Book of the Year

PRAISE FOR SUPER HAIR-O AND THE BARBER OF DOOM

"With a light, humorous touch, Rocco reveals that sometimes the Kryptonite is all in your head."

PRAISE FOR SUPER HAIR-O AND THE BARBER OF DOOM

"Bold, colorful pen-and-ink illustrations burst with power from each spread in comic-book style. This story will make a feel-good impression on budding comic book/superhero fans."

PRAISE FOR FU FINDS THE WAY

"Rocco's story flows smoothly and his illustrations are rich and appealing..."