Anne of Green Gables: A Graphic Novel (Paperback)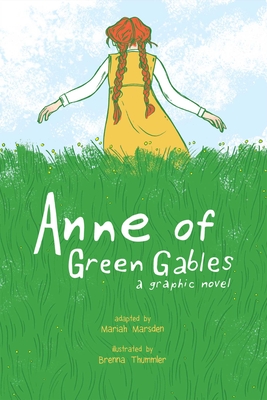 $12.99

Not in Stock... Available to ship in 3-5 days
Description
---
Schoolyard rivalries. Baking disasters. Puffed sleeves. Explore the violet vales and glorious green of Avonlea in this spirited graphic novel adaptation.

The spirit of Anne is alive and well in Mariah Marsden's crisp adaptation, and it's a thrill to watch as the beloved orphan rushes headlong through Brenna Thummler's heavenly landscapes. Together Marsden and Thummler conjure all the magic and beauty of Green Gables. Like Anne herself, you won't want to leave.
 — Brian Selznick, author/illustrator of "The Invention of Hugo Cabret" and "The Marvels"

The magic of L.M. Montgomery's treasured classic is reimagined in a whimsically-illustrated graphic novel adaptation perfect for newcomers and kindred spirits alike.

When Matthew and Marilla Cuthbert decide to adopt an orphan who can help manage their family farm, they have no idea what delightful trouble awaits them. With flame-red hair and an unstoppable imagination, 11-year-old Anne Shirley takes Green Gables by storm.

Anne's misadventures bring a little romance to the lives of everyone she meets: her bosom friend, Diana Barry; the town gossip, Mrs. Lynde; and that infuriating tease, Gilbert Blythe. From triumphs and thrills to the depths of despair, Anne turns each everyday moment into something extraordinary.

 
About the Author
---
Mariah Marsden spent her childhood hunting for faeries amidst the old hills of the Missouri Ozarks. She began telling stories to pass the time on her family's farm, and she hasn't stopped since. A former children's librarian, she earned her MFA in Creative Writing & Media Arts from the University of Missouri-Kansas City. She writes about the dreams and difficulties of girlhood, the folklore of her region, and the complexities of rural life. She's still on the lookout for faeries.
Praise For…
---
The spirit of Anne is alive and well in Mariah Marsden's crisp adaptation, and it's a thrill to watch as the beloved orphan rushes headlong through Brenna Thummler's heavenly landscapes. Together Marsden and Thummler conjure all the magic and beauty of Green Gables. Like Anne herself, you won't want to leave. (Brian Selznick, author/illustrator of "The Invention of Hugo Cabret" and "The Marvels")

The illustrations are incredible. Like Anne, I wanted to stay in Green Gables right away, and I loved it even more as the seasons changed and the years passed. And Anne is such a captivating character—uncertain but determined, vulnerable but strong, unique but universal. I finished reading this book and then immediately read it again. (Dana Simpson, cartoonist, "Phoebe & Her Unicorn," "Ozy & Millie")

From the first panel, I was enchanted. . . . Thummler's illustrations are beautiful, inviting, and lovely . . . I read it in one sitting, and it stayed with me long after. This was a delight! (Georgia Dunn, cartoonist, "Breaking Cat News")

An orphan with "hair as red as carrots" and the mischief she creates come to vivid life in this graphic novel version of Lucy Maud Montgomery's classic novel, a debut for both author and artist. Thummler's crisp illustrations warmly capture pug-nosed Anne's indomitable spirit as she navigates her new life with sibling caretakers Matthew and Marilla Cuthbert. Marsden distills the high notes from Montgomery's original—the raspberry cordial incident, Anne's redemption, and the dress with the pretty puffed sleeves among them—while Thummler's bright palette showcases the natural beauty in Avonlea that so captivates Anne. Darker shades and stark blocking imbue somber moments with deep emotion: Matthew's loneliness is viscerally apparent in an early scene in which he contemplates returning Anne to the orphanage, his figure hunched and still on the lower quarter of the page while vast darkness stretches above him. But the story is carried by Anne's pure, unabashed joy and eagerness. Newcomers to Anne's world and devoted fans alike should devour this spirited adaptation. Ages 7–12. (Oct.) (Publishers Weekly, Publishers Weekly)

"L. M. Montgomery's classic tale is delicately and lovingly transformed into a graphic novel…Though the original tale is abridged and adapted, Marsden is careful not to rush the plot…[Thummler's] soft, pastel palette is a perfect complement to the historical setting, and her softly glowing art is the heart of this fitting tribute to a beloved work." (Snow Wildsmith, Booklist)

"A gem of a graphic novel adaptation that should be shelved right alongside the original…A must-purchase." (School Library Journal)

 "A classic presented in a new format that's perfectly suited for one of the most imaginative girls in children's literature."
(Stephanie Anderson, Shelf Awareness)