Ike and McCarthy: Dwight Eisenhower's Secret Campaign against Joseph McCarthy (Hardcover)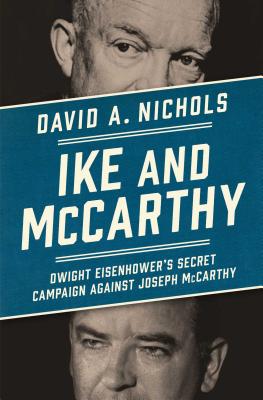 $27.95
Email or call for price
Description
---
Revealed for the first time, this is the full story of how President Dwight Eisenhower masterminded the downfall of the anti-Communist demagogue Senator Joseph McCarthy.

Behind the scenes, Eisenhower loathed McCarthy, the powerful Republican senator notorious for his anti-Communist witch hunt. In spite of a public perception that Eisenhower was unwilling to challenge McCarthy, Ike believed that directly confronting the senator would diminish the presidency. Therefore, the president operated with a "hidden hand," refusing even to mention the Senator's name.

In Ike and McCarthy, David A Nichols shows how the tension between the two men escalated. In a direct challenge to Eisenhower, McCarthy alleged that the US Army was harboring communists and launched an investigation. But the senator had unwittingly signed his own political death warrant. The White House employed surrogates to conduct a clandestine campaign against McCarthy and was not above using information about the private lives of McCarthy's aides as ammunition.

In January 1954 McCarthy was arguably the most powerful member of the Senate. By the end of that year, he had been censured by his colleagues for unbecoming conduct. Eisenhower's covert operation had discredited the senator months earlier, exploiting the controversy that resulted from the televised Army-McCarthy hearings. McCarthy would never recover his lost prestige. Nichols uses documents previously unavailable or overlooked to authenticate the extraordinary story of Eisenhower's anti-McCarthy campaign. Ike and McCarthy is an eye-opening, newsworthy, and fascinating read.
About the Author
---
David A. Nichols, a leading expert on the Eisenhower presidency, holds a PhD in history from the College of William and Mary. A former professor and academic dean at Southwestern College, he is the author of A Matter of Justice: Eisenhower and the Beginning of the Civil Rights Revolution; Eisenhower 1956: The President's Year of Crisis; and Ike and McCarthy: Dwight Eisenhower's Secret Campaign against Joseph McCarthy; as well as other books. He lives in Winfield, Kansas.
Praise For…
---
"Nichols has provided a gripping, detailed account of how the executive branch subtly but decisively defeated one of America's most dangerous demagogues. In today's incendiary politics, the hidden hand is out of fashion. But the need to battle demagoguery is as topical as ever."
— James Ledbetter

"Nobody has done more to debunk the myth that President Eisenhower was passive and ineffective than David Nichols. In his riveting account of how Ike took down the fearsome demagogue Joe McCarthy, Nichols shows how just how deceptively clever Eisenhower could be. Nichols is a first-class scholar who knows how to spin a fast-paced yarn."
— Evan Thomas, author of Ike's Bluff and Being Nixon

"Cleanly written and consistently judicious. . . . Ike and McCarthy shows how hard it was, and how long it took, for a president to rein in a single senator. It remains for the reader to discern in this book a rough, inverted image of our own time, with the polarity reversed between the White House and the Congress."
— Thomas Mallon

"Dwight Eisenhower was a remarkable president. Peace in Korea, a reduction of Cold War tension, the interstate highway system, and the enforcement of desegregation in the South were all Ike's achievements. But he was also extremely effective acting under the surface. David Nichols captures his ability to get things done without revealing himself. The destruction of Joe McCarthy and McCarthyism is a perfect example. Ike handled it, the nation profited, and David Nichols has done a superb job of analyzing it."
— Jean Edward Smith, author of Eisenhower in War and Peace

"Another first for David Nichols. His fresh insights based on exceptional research and his fluid writing make this book particularly interesting and enlightening. Nichols has broken new ground. The story of Ike's role in the downfall of McCarthy is finally told – and extremely well."
— Chuck Hagel, former U.S. Secretary of Defense

"A thorough and detailed look inside one of the classic battles in American politics. . . . Because of his public aloofness, many believed Eisenhower was politically naive. The original golfing president, Nichols shows in meticulous detail, was far from it."
— Chris Foran

"New insight into Dwight Eisenhower's silent methods of facing down enemies, particularly Joseph McCarthy. . . . A thorough, well-written, and surprising picture of a man who was much more than a 'do-nothing' president."
— Kirkus Reviews (starred review)

"Fascinating detail. . . . Nichols does an excellent job of conveying the fraught tenor of the times. . . . The lesson Nichols leaves us with in Ike and McCarthy is that truth tends to be undervalued as a political commodity, and as a result American democracy remains vulnerable to those who do not respect it."
— Philip Seib

"David A. Nichols's Ike and McCarthy is a riveting reexamination of the Red Scare of the 1950s. Eisenhower emerges in these pages as brave and heroic. The amount of new documentary research that Nichols brings to the topic is staggering. A landmark study!"


— Douglas Brinkley, Professor of History, Rice University and CNN Presidential Historian

"Nichols shows how [Eisenhower's] quiet, effective crusade against a demagogue turned the nation away from a domestic threat. Heavily annotated with both primary and secondary sources, this day-to-day narrative is detailed and telling."
— Library Journal (starred review)

"A well-researched and sturdily written account of what may be the most important such conflict in modern history: the two years, 1953 and 1954, when Dwight D. Eisenhower, the first Republican president elected since Herbert Hoover, found himself under assault from the demagogic senator who perfected the politics of ideological slander. . . . Americans have as much to learn today from Eisenhower as his many liberal critics did in 1954."
— Sam Tanenhaus

"David Nichols, one of the premier scholars of the Dwight Eisenhower presidency, has turned upside down the overwhelming consensus that Joseph McCarthy self-destructed while the president watched passively. Nichols's compelling narrative illustrates how Ike led the charge to destroy McCarthy, fundamentally changing the historical record."
— Irwin F. Gellman, author of The President and the Apprentice

"A thrilling new history."
— John Batchelor