Top 10 New York City: 2018 (DK Eyewitness Travel Guide) (Paperback)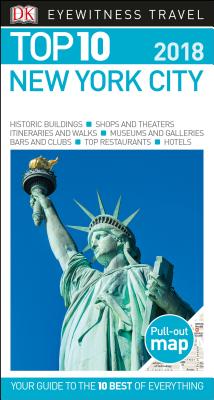 $14.00
Email or call for price
Description
---
This newly updated pocket travel guide for New York City will lead you straight to the best attractions the city has to offer, from unearthing archaeological treasures at the Metropolitan Museum of Art to biking through Central Park to discovering the city's hottest neighborhoods on walking tours. Plus, check out the best of the boroughs with suggested highlights for Brooklyn, Queens, Staten Island, the Bronx, and Upper Manhattan.
True to its name, DK Eyewitness Travel Guide: Top 10 New York City covers all the city's major sights and attractions in easy-to-use "top 10" lists that help you plan the vacation that's right for you.
   • Itineraries help you plan your trip.
   • Top 10 lists feature off-the-beaten-track ideas, along with standbys like the top attractions, shopping, dining options, and more.
   • Comprehensive laminated pull-out map includes color-coded design, public transportation maps, and street indexes.
   • Maps of walking routes show you the best ways to maximize your time.
   • Additional maps marked with sights from the guidebook are shown on inside cover flaps, with selected street index and metro map.
DK's famous full-color photography and museum floor plans, along with just the right amount of coverage of the city's history and culture, provide inspiration as you explore. A free pull-out city map is marked with sights from the guidebook and includes a street index and a metro map.
The perfect pocket-size travel companion: DK Eyewitness Travel Guide: Top 10 New York City.
Series Overview: DK Eyewitness Travel Guide Top 10s are handy travel guides that take the work out of planning a trip. Packed with amazing ideas, informative maps, insider tips, and useful advice, DK's Top 10 guides lead you to the very best your destination has to offer. The pocket size make these the perfect guide to take on vacation. Discover the history, art, architecture, and culture of your destination through Top 10 lists, from the best museums, bars, and sights to the places to avoid.
Praise For…
---
"A lovely and well-illustrated series of travel guides." — Chicago Tribune