Utah Women: Pioneers, Poets and Politicians (Paperback)
Weller Book Works was founded as Zion Bookstore nearly 90 years ago. Over the years we've been known as Sam Weller's Books and Sam Weller's Zion Bookstore. We are in our third generation of operations, owned and managed by Tony and Catherine Weller. Our staff includes four generations of Wellers and a remarkable team of book lovers. Our bookstore sells new, used and rare books in a space built to surprise and delight you in historic Trolley Square.

We're happy to answer your questions and help you select just the right book.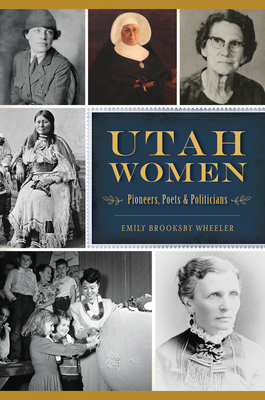 Description
---
Representing lawmakers and lawbreakers, artists and adventurers or scholars and activists, the women of Utah defied stereotypes. At the crossroads of the West, they found new challenges and opportunities to forge their own paths. Emma Dean explored the Rocky Mountains with her famous spouse, John Wesley Powell. Martha Hughes Cannon defeated her husband to become the first female state senator. Maud Fitch drove an ambulance under German artillery fire to rescue downed pilots in World War I. Author Emily Brooksby Wheeler celebrates the remarkable Utah women who, whether racing into danger or nurturing those who fell behind, changed their world and ours.