The Paper Menagerie and Other Stories (Paperback)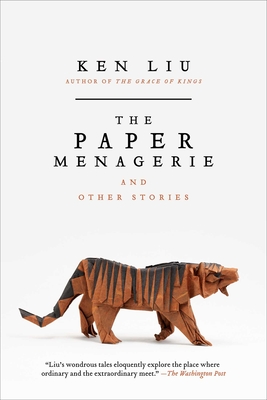 Description
---
Featured in the Netflix series Love, Death & Robots

Bestselling author Ken Liu selects his multiple award-winning stories for a groundbreaking collection—including a brand-new piece exclusive to this volume.

With his debut novel, The Grace of Kings, taking the literary world by storm, Ken Liu now shares his finest short fiction in The Paper Menagerie and Other Stories. This mesmerizing collection features many of Ken's award-winning and award-finalist stories, including: "The Man Who Ended History: A Documentary" (Finalist for the Hugo, Nebula, and Theodore Sturgeon Awards), "Mono No Aware" (Hugo Award winner), "The Waves" (Nebula Award finalist), "The Bookmaking Habits of Select Species" (Nebula and Sturgeon Award finalists), "All the Flavors" (Nebula Award finalist), "The Litigation Master and the Monkey King" (Nebula Award finalist), and the most awarded story in the genre's history, "The Paper Menagerie" (The only story to win the Hugo, Nebula, and World Fantasy awards).

Insightful and stunning stories that plumb the struggle against history and betrayal of relationships in pivotal moments, this collection showcases one of our greatest and original voices.
About the Author
---
Ken Liu is an award-winning American author of speculative fiction. His collection, The Paper Menagerie and Other Stories, has been published in more than a dozen languages. Liu's other works include The Grace of Kings, The Wall of Storms, The Veiled Throne, and a second collection The Hidden Girl and Other Stories. He has been involved in multiple media adaptations of his work, including the short story "Good Hunting," adapted as an episode in Netflix's animated series Love, Death + Robots; and AMC's Pantheon, adapted from an interconnected series of short stories. "The Hidden Girl," "The Message," and "The Oracle" have also been optioned for development. Liu previously worked as a software engineer, corporate lawyer, and litigation consultant. He frequently speaks at conferences and universities on topics including futurism, machine-augmented creativity, the history of technology, and the value of storytelling. Liu lives with his family near Boston, Massachusetts.
Praise For…
---
"I know this is going to sound hyperbolic, but when I'm reading Ken Liu's stories, I feel like I'm reading a once-in-a-generation talent. I'm in awe."
— Jamie Ford, New York Times bestselling author of Hotel on the Corner of Bitter and Sweet

Questions of identity galvanize the 15 stories in this outstanding collection of fantastical fiction, giving them extraordinary gravity and resonance. In "Good Hunting," the human companion of a supernatural creature from Chinese folklore contrives an ingenious way to help her adapt to a steampunk future. The title tale (which swept the Hugo, Nebula, and World Fantasy Awards), in which a mother expresses love for her son through the magically animated origami animals she creates, is one of several in which the author uses Chinese-American experience to explore how all individuals assimilate into society. Whether writing about Asian culture and history, as in "The Literomancer" and "All the Flavors," or extraterrestrial civilizations, as in "The Bookmaking Habits of Select Species" and "An Advanced Reader's Picture Book of Comparative Cognition," Liu (The Grace of Kings) universalizes the experiences of his characters, who realize at some point, as the protagonist of "Mono No Aware" does, that "we are defined by the places that we hold in the web of others' lives." Gracefully written and often profoundly moving, these stories are high-water marks of contemporary speculative fiction. (Mar.)
— Publishers Weekly, STARRED REVIEW

These remarkable stories highlight Liu's themes of family, love, and politics and gathered in one collection pack an even bigger punch. Those who revere shorter speculative works will definitely want this book.
— *STARRED REVIEW, Library Journal

Emotionally unpredictable, Liu's stories take off in unexpected directions and arrive at destinations both startling and satisfying.
— Shelf Awareness, *STARRED REVIEW

Liu's wondrous tales eloquently explore the place where ordinary and the extraordinary meet.
— The Washington Post

Selected as "14 of the Most Buzzed About Books of 2016"
— BuzzFeed

There is a dark and sometimes shocking edge to some of these stories, but nearly all are provocative, and several are brilliant.
— The Chicago Tribune

Liu's book compiles brilliant stories written in several different, overlapping modes, a technically dazzling collection of compulsively readable narratives, presenting characters with agonizing moral dilemmas and never forgetting the heart.
— The Journal Sentinel (Milwaukee)

Liu's talent in evoking atmosphere and culture make these tales more than stories – they're journeys. If you're looking to dream of another world, or reflect on our own, do yourself a favor and pick up a copy of The Paper Menagerie.
— Muggle.net