The Lonesome Crown (The Five Warrior Angels #3) (Paperback)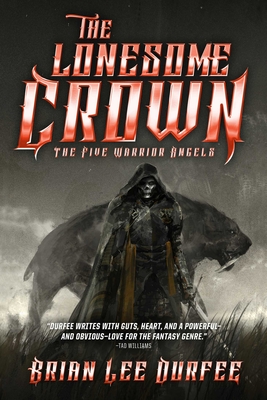 Other Books in Series
This is book number 3 in the The Five Warrior Angels series.
Description
---
A sweeping epic fantasy weaving both destiny and ancient magic in this masterful final novel in the beloved Five Warrior Angels trilogy from Brian Lee Durfee.

In the age of belief, magic is a myth. But when an apocalyptic crusade comes to the remote border of Gul Kana, that belief is shattered as is the tenuous peace that held the Five Isles together. Now, the prophecies that were used to justify this war are unravelling revealing a hidden agenda while the world lies in the wake of the degradations of this war.

But a slim skein of hope resides within the hidden truths, long kept secret, and scattered throughout the isles—truths less reliant upon prophecy than heroism, and great sacrifice.

Not everything is as it seems in this epic, long-awaited conclusion to trilogy which Booklist raved as "high fantasy in the vein of Stephen R. Donaldson or David Eddings, with generous helpings from George R. R. Martin."
About the Author
---
Brian Lee Durfee is an artist and writer raised in Fairbanks, Alaska, and Monroe, Utah. He has done illustrations for Wizards of the Coast, Middle-Earth Enterprises, Dungeons & Dragons, Humane Society Wildlife Land Trust (Denali National Park), and many more. His art has been featured in SPECTRUM 3: Best in Contemporary Fantastic Art and L. Ron Hubbard Presents Writers of the Future Vol IX. He won the Arts for the Parks Grand Canyon Award and has a painting in the permanent collection of the Grand Canyon Visitors Center-Kolb Studio. Brian has written one epic horror novel along with the fantasy series, Five Warrior Angels. He lives in Salt Lake City.
Praise For…
---
"This is high fantasy in the vein of Stephen R. Donaldson or David Eddings, with generous helpings from George R. R. Martin. Durfee's world building is exceptional: detailed and immersive, with a deep history and believable cultures. The plot is paced and driven, compellingly structured, with a conflict large enough to fuel forthcoming titles in the series."—Booklist

"Durfee's artist's eye and fertile imagination populate this complex tale."—Publishers Weekly

"This is an epic, EPIC fantasy."—SFFWorld.com

"The Forgetting Moon provides plenty of well-crafted spectacle, thrills, suspense, blood, thunder and general sense of wonder."—Locus Magazine

"Durfee has a knack for crafting an incredibly intricate, surprising story. This book set out to do a few very specific things, and it did every last one of those things with brutal efficiency."—Bookworm Blues.com