A Wolf Apart (The Legend of All Wolves) (Mass Market)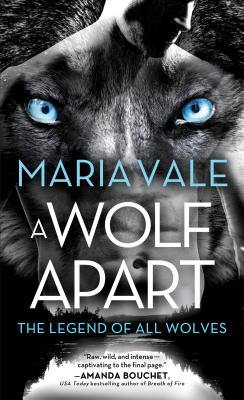 Other Books in Series
This is book number 2 in the The Legend of All Wolves series.
Description
---
In this stunningly original wolf shifter romance, can a human truly make room in her heart for the Wild?
Thea Villalobos has long since given up trying to be what others expect of her. So in Elijah Sorensson she can see through the man of the world to a man who is passionate to the point of heartbreak. But something inside him is dying, and Thea's heart aches for the man who could so easily become her wolf…
Elijah Sorensson has all kinds of outward success: bespoke suits, designer New York City apartment, women clamoring for his attention. Except Elijah despises the human life he's forced to endure. He's Alpha of the Great North Pack, and the wolf inside him will no longer be restrained…
She sizes me up quickly with eyes the color of ironwood and just as unyielding.
"Thea Villalobos," she says, and it takes me a moment to get my breath back.
Thea Villalobos. Goddess of the City of Wolves.
Readers are howling for more: See where the adventure all began in The Last Wolf.
About the Author
---
Maria Vale is a journalist who has worked for Publishers Weekly, Glamour magazine, Redbook, the Philadelphia Inquirer. She is a logophile and a bibliovore and a worrier about the world.Trained as a medievalist, she tries to shoehorn the language of Beowulf into things that don't really need it. She currently lives in New York with her husband, two sons and a long line of dead plants. No one will let her have a pet.
Praise For…
---
"A feral and fearsome romance that works for its happy ending." — Kirkus Reviews
"A brilliant job of developing werewolf culture ... Vale's nuanced exploration of werewolf concepts elevates this work above others in the genre." — Publishers Weekly
"enthralling and exciting... The intricate culture and social mores of the Pack elevate Vale's series. " — Booklist
"enthralling from the start!" — Harlequin Junkie
"A wealth of sharply etched detail, snippets of pack history and lore, and a colorful supporting cast add another layer to this remarkable, strangely believable world." — Library Journal
"kept me on the edge of my seat...a great fascinating story" — With Love For Books