Season of the Wolf (The Legend of All Wolves) (Mass Market)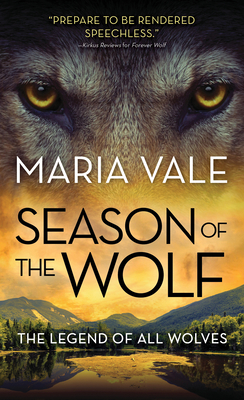 Other Books in Series
This is book number 4 in the The Legend of All Wolves series.
Description
---
In a world of danger and uncertainty, the Alpha has enough to worry about without him…
For Alpha Evie Kitwanasdottir, things are never easy. The Great North Pack has just survived a deadly attack. Evie is determined to do whatever is necessary to keep her Pack safe, especially from the four Shifters who are their prisoners.
Constantine lost his parents and his humanity on the same devastating day. He has been a thoughtless killer ever since. When Constantine is moved to live under Evie's watchful eye, he discovers that taking directions and having a purpose are not the same thing.
Each moment spent together brings new revelations to Constantine, who begins to understand the loneliness of being Alpha. He finds strength and direction in helping Evie, but there is no room for a small love in the Pack, so Constantine must work harder than ever to prove to Evie he is capable of a love big enough for the Great North Pack itself.
The Legend of All Wolves Series:
The Last Wolf (Book 1)
A Wolf Apart (Book 2)
Forever Wolf (Book 3)
Season of the Wolf (Book 4)
Praise for Maria Vale:
"Prepare to be rendered speechless."—Kirkus Reviews for Forever Wolf
"Pushes boundaries, and keeps you at the edge of your seat."—TERRY SPEAR, USA Today bestselling author, for The Last Wolf
"Wonderfully unique and imaginative. I was enthralled!"—JEANIENE FROST, New York Times bestselling author, for The Last Wolf
"Raw, wild, and intense—captivating to the final page."—AMANDA BOUCHET, USA Today bestselling author, for The Last Wolf
"Enthralling and exciting…the intricate culture and social mores of the Pack elevate Vale's series."—Booklist for A Wolf Apart
"A brilliant job of developing werewolf culture…Vale's nuanced exploration of werewolf concepts elevates this work above others in the genre."—Publishers Weekly for A Wolf Apart
About the Author
---
Maria Vale is a journalist who has worked for Publishers Weekly, Glamour magazine, Redbook, the Philadelphia Inquirer. She is a logophile and a bibliovore and a worrier about the world.Trained as a medievalist, she tries to shoehorn the language of Beowulf into things that don't really need it. She currently lives in New York with her husband, two sons and a long line of dead plants. No one will let her have a pet.
Praise For…
---
"Series fans will be satisfied." — Publishers Weekly
"Vale is a rare writer... A must read." — Kirkus Reviews, STARRED Review