COVID-19
We miss having customers in the store! However, we want our customers and staff to stay healthy and safe so are still in the process of opening safely.
While we work to open up, we're also here to meet your bookish needs! To buy new books, order through this website. If you're looking for used or rare books, browse our collection on Biblio. You can also give us a call to place an order or to check on the availability of a title.
We are unable to consider used book offers until after we re-open to the public.
At the Mountains of Madness (Paperback)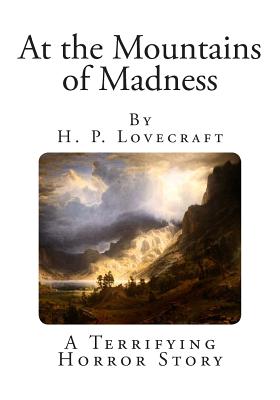 $7.95
Not in Stock... Available to ship in 3-5 days​
Description
---
At the Mountains of Madness - By H. P. Lovecraft - A Terrifying Horror Story. At the Mountains of Madness is a novella by horror writer H. P. Lovecraft, written in February/March 1931 and rejected that year by Weird Tales editor Farnsworth Wright on the grounds of its length. It was originally serialized in the February, March and April 1936 issues of Astounding Stories. It has been reproduced in numerous collections. The story has inadvertently popularized the concept of ancient astronauts, as well as Antarctica's place in the "ancient astronaut mythology." The story is told in first-person perspective by the geologist William Dyer, a professor at Miskatonic University. He writes to disclose hitherto unknown and closely kept secrets in the hope that he can deter a planned and much publicized scientific expedition to Antarctica. On a previous expedition there, scholars from Miskatonic University led by Dyer discovered fantastic and horrific ruins and a dangerous secret beyond a range of mountains higher than the Himalayas. A smaller advance group, led by Professor Lake, discovered and crossed the mountains and found the remains of fourteen ancient life forms, completely unknown to science and unidentifiable as either plants or animals. Six of the specimens are badly damaged and the others uncannily pristine. Their highly evolved features are problematic: their stratum location puts them at a point on the geologic time scale much too early for such features to have naturally evolved. When the main expedition loses contact with Lake's party, Dyer and the rest of his colleagues travel to their last known location to investigate. Lake's camp is devastated, and both the men and the dogs slaughtered, while a man named Gedney and another dog are unaccounted for. Near the camp they find six star-shaped snow mounds, and one specimen buried under each. They discover that the better preserved life forms have vanished, and that some form of dissection experiment has been done on an unnamed man and a dog. Dyer elects to close off the area from which they took their samples.
About the Author
---
Howard Phillips "H. P." Lovecraft (August 20, 1890 - March 15, 1937) was an American author who achieved posthumous fame through his influential works of horror fiction. Virtually unknown and only published in pulp magazines before he died in poverty, he is now regarded as one of the most significant 20th-century authors in his genre. Lovecraft was born in Providence, Rhode Island, where he spent most of his life. His father was confined to a mental institution when Lovecraft was 3 years old. His grandfather, a wealthy businessman, enjoyed storytelling and was an early influence. Intellectually precocious but sensitive, Lovecraft had begun composing rudimentary horror tales and had begun to be overwhelmed by feelings of anxiety by the age of 8. He encountered problems with peers in school, and was kept at home by his highly-strung and overbearing mother for illnesses that may have been psychosomatic. In high school Lovecraft found his contemporaries were accepting and he formed friendships. He also involved neighborhood children in elaborate make-believe projects, only regretfully ceasing the activity at 17 years old. Despite leaving school in 1908 without graduating-he found mathematics particularly difficult-Lovecraft's knowledge of subjects that interested him was formidable.