The Atlas of the Civil War (Paperback)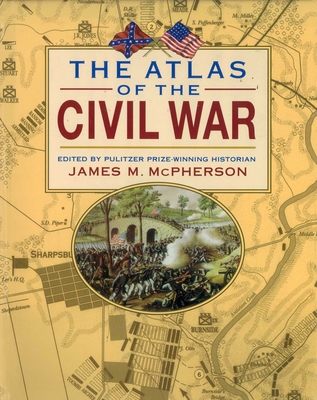 $24.99

Not in Stock... Available to ship in 3-5 days
Description
---
From the first shots fired at Fort Sumter in 1861 to the final clashes on the Road to Appomattox in 1864, The Atlas of the Civil War reconstructs the battles of America's bloodiest war with unparalleled clarity and precision. Edited by Pulitzer Prize recipient James M. McPherson and written by America's leading military historians, this peerless reference charts the major campaigns and skirmishes of the Civil War.

Each battle is meticulously plotted on one of 200 specially commissioned full-color maps. Timelines provide detailed, play-by-play maneuvers, and the accompanying text highlights the strategic aims and tactical considerations of the men in charge. Each of the battle, communications, and locator maps are cross-referenced to provide a comprehensive overview of the fighting as it swept across the country.

With more than two hundred photographs and countless personal accounts that vividly describe the experiences of soldiers in the fields, The Atlas of the Civil War brings to life the human drama that pitted state against state and brother against brother.
About the Author
---
James M. McPherson is a military historian and author of several books, including Battle Cry of Freedom: The Civil War Era, the winner of the 1988 Pulitzer Prize for History and New York Times bestseller. He is the author of Ordeal by Fire: The Civil War and Reconstruction, Abraham Lincoln and the Second American Revolution, Crossroads of Freedom, What They Fought For, 1861-1865, and many other books on the Civil War. He is Edwards Professor of American History at Princeton University.