Show-Me: Native American Things From Before 1900 (Picture Book) (Show Me) (Paperback)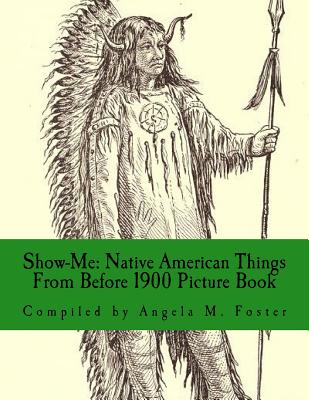 Description
---
A picture book featuring 60 pictures of Native American things (and a few people) from different tribes in America from before the year of 1900. Most of the items indicate which tribe they are from.
CAUTION: There are a few pictures that some people would consider graphic. Such as a drawing of "scalps" and a drawing of a ritual where people are tortured.
The "Show-Me: " picture book series is made for ALL ages. They are especially enjoyed by: Young children, visual (spatial) learners, language impaired, disabled, elderly and history buffs.
About the Author
---
Angela M. Foster is a versatile author/creator of several different book series of picture books, workbooks, reading books, educational/learning books, knitting & crochet pattern books, plastic canvas pattern books, genealogy vital records books, and more. You can follow her on Facebook at https: //www.facebook.com/AngelaMFoster47 or on Twitter at https: //twitter.com/AngelaMFoster4 or on Pinterest at https: //www.pinterest.com/amfoster4/