Wild: Endangered Animals in Living Motion (Photicular) (Hardcover)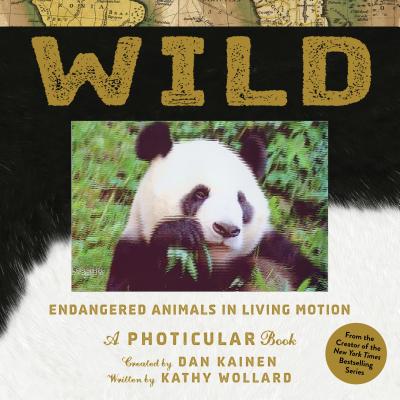 $26.95
Email or call for price
Description
---
Come face to face with our vanishing wildlife. Using unique Photicular technology, Wild brings to vivid life the animals who are under threat of extinction. It turns abstract numbers and names into touching and unforgettable images.

From the cover panda, lazily munching on leaves, to an albatross swooping its magnificent wings, to the hovering bumblebee, among the most critical of threatened animals in terms of its effect on the global food supply, Wild captures eight endangered animals in living motion. We see gorillas at play, a rhinoceros and its baby trotting across the savanna, a pangolin skittering along the landscape, an elephant bathing in a river.

An opening essay explores the environmental and economic threats to animal populations and how conservationists are working to slow—and when they can, reverse—the damage. Profiles of each animal accompany the images.

Wild joins four other books in the Photicular series—Safari, Ocean, Polar, and Jungle.

 
About the Author
---
Dan Kainen
is an artist, designer, and inventor living in New York City. He is the creator of the bestselling Photicular books
Safari, Ocean,Polar, Jungle
, and
Wild
. His website is DanKainen.com.
While working with some of the pioneers of holography, Dan created a special spotlight that was used by Soho's Museum of Holography to light holograms. The related field of holography led to Dan's interest in lenticular art and, in turn, after nearly a decade of research and experimentation, to the creation of his "Motion Viewer," his third patent in that field and the inspiration for Safari and the other Photicular books.
Kathy Wollard is a science journalist and the author of the bestselling How Come? Every Kid's Science Questions Explained. Her work has appeared in Newsday, Scholastic, Popular Science, and Family Fun magazines. She lives in rural Ohio.