The Miracle & Tragedy of the Dionne Quintuplets (Library Binding)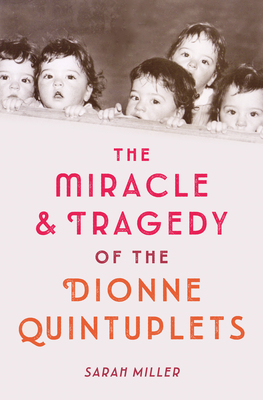 Description
---
In this riveting, beyond-belief true story from the author of The Borden Murders, meet the five children who captivated the entire world.

When the Dionne Quintuplets were born on May 28, 1934, weighing a grand total of just over 13 pounds, no one expected them to live so much as an hour. Overnight, Yvonne, Annette, Cécile, Émilie, and Marie Dionne mesmerized the globe, defying medical history with every breath they took. In an effort to protect them from hucksters and showmen, the Ontario government took custody of the five identical babies, sequestering them in a private, custom-built hospital across the road from their family--and then, in a stunning act of hypocrisy, proceeded to exploit them for the next nine years. The Dionne Quintuplets became a more popular attraction than Niagara Falls, ogled through one-way screens by sightseers as they splashed in their wading pool at the center of a tourist hotspot known as Quintland. Here, Sarah Miller reconstructs their unprecedented upbringing with fresh depth and subtlety, bringing to new light their resilience and the indelible bond of their unique sisterhood.
About the Author
---
Sarah Miller is the author of the historical fiction novels Miss Spitfire: Reaching Helen Keller, which was called "an accomplished debut" in a starred review from Booklist and was named an ALA–ALSC Notable Children's Book, and The Lost Crown, a novel hailed as "fascinating" in a starred review from Kirkus Reviews and named an ALA–YALSA Best Book for Young Adults.
Praise For…
---
A Bulletin 2019 Blue Ribbon Book

"Miller avoids a sensational tone, and her fresh and detailed reconstruction of this famous story is riveting — part tabloid story, part poignant biography."
–New York Times Book Review

"[A] thorough, fascinating deep dive into the lives of five girls who captured the attention of millions"–Booklist, Starred Review

"Miller demonstrates herself once again to be a dab hand at examining a historic media frenzy and analyzing the legacy of its lore, leaving trails of ill-informed opinion and blame that lingers into the present."–Bulletin, Starred Review

"Fascinating and well-told. Miller negotiates the multiple viewpoints with a clear eye and extensive research." – Voya, Starred Review

"International media darlings during the Great Depression, the Dionne sisters are virtually unknown to today's young people, but Miller's intense focus on what the girls were going through makes their story timeless." –Horn Book, Starred Review

"It is impossible not to feel the tragedy of the quintuplets' lives….  eye-opening, thoroughly researched."—Publishers Weekly

"Captivating and enchanting, as well as respectful…. Thoughtfully, cautiously, and candidly researched."—School Library Journal