COVID-19
We miss having customers in the store! However, we want our customers and staff to stay healthy and safe so are still in the process of opening safely.
While we work to open up, we're also here to meet your bookish needs! To buy new books, order through this website. If you're looking for used or rare books, browse our collection on Biblio. You can also give us a call to place an order or to check on the availability of a title.
We are unable to consider used book offers until after we re-open to the public.
To Shake the Sleeping Self: A Journey from Oregon to Patagonia, and a Quest for a Life with No Regret (Paperback)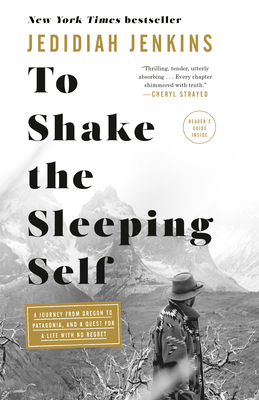 Description
---
NEW YORK TIMES BESTSELLER • "With winning candor, Jedidiah Jenkins takes us with him as he bicycles across two continents and delves deeply into his own beautiful heart."—Cheryl Strayed, author of Wild and Tiny Beautiful Things
 
On the eve of turning thirty, terrified of being funneled into a life he didn't choose, Jedidiah Jenkins quit his dream job and spent sixteen months cycling from Oregon to Patagonia. He chronicled the trip on Instagram, where his photos and reflections drew hundreds of thousands of followers, all gathered around the question: What makes a life worth living? 

In this unflinchingly honest memoir, Jed narrates his adventure—the people and places he encountered on his way to the bottom of the world—as well as the internal journey that started it all. As he traverses cities, mountains, and inner boundaries, Jenkins grapples with the question of what it means to be an adult, his struggle to reconcile his sexual identity with his conservative Christian upbringing, and his belief in travel as a way to wake us up to life back home.

A soul-stirring read for the wanderer in each of us, To Shake the Sleeping Self is an unforgettable reflection on adventure, identity, and a life lived without regret.
 
This edition features a new afterword and a reader's group guide.

"[Jenkins is] a guy deeply connected to his personal truth and just so refreshingly present."—Rich Roll, author of Finding Ultra
 
"This is much more than a book about a bike ride. This is a deep soul deepening us. Jedidiah Jenkins is a mystic disguised as a millennial."—Tom Shadyac, author of Life's Operating Manual

"Thought-provoking and inspirational . . . This uplifting memoir and travelogue will remind readers of the power of movement for the body and the soul."—Publishers Weekly

About the Author
---
Jedidiah Jenkins is a travel writer, entrepreneur, and the New York Times bestselling author of To Shake the Sleeping Self. A graduate of USC and Pepperdine University School of Law, Jenkins began his professional career with the nonprofit Invisible Children, where he helped orchestrate multinational campaigns to end the use of child soldiers in central Africa. His parents, Peter and Barbara Jenkins, are the authors of the bestselling A Walk Across America series. He is the executive editor of Wilderness magazine. Jenkins's work has appeared in The Paris Review and Playboy, and he has been covered by National Geographic.
Praise For…
---
"A thrilling, tender, utterly absorbing book. With winning candor, Jedidiah Jenkins takes us with him as he bicycles across two continents and delves deeply into his own beautiful heart. We laugh. We cry. We feel the glory and the agony of his adventure; the monotony and the magic; the grace and the grit. Every page of this book made me ache to know what happened next. Every chapter shimmered with truth. It's an unforgettable debut."—Cheryl Strayed, author of Wild and Tiny Beautiful Things

"Thought-provoking and inspirational . . . This uplifting memoir and travelogue will remind readers of the power of movement for the body and the soul."—Publishers Weekly
  
"[Jenkins is] a guy deeply connected to his personal truth and just so refreshingly present."—Rich Roll, author of Finding Ultra
 
"This is much more than a book about a bike ride. This is a deep soul deepening us. Jedidiah Jenkins is a mystic disguised as a millennial."  —Tom Shadyac, author of Life's Operating Manual

Praise for Jedidiah Jenkins

"Jedidiah Jenkins is a storyteller. He's also an adventurer, a connoisseur of good pourovers, an avid Instagram user, a startup co-founder, and one of those humans that makes everything about them seem inviting."—USA Today

"Jenkins' words are brutally honest and leave me thinking a little deeper about my own observations when I pass a stranger on a street or see a flower blooming on a rocky trail."—Outside Magazine