Mixt Salads: A Chef's Bold Creations [A Cookbook] (Hardcover)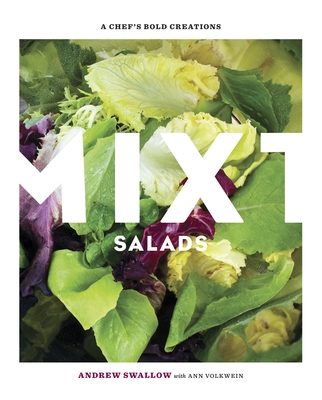 Description
---
Dare to get more out of your greens!
 
From healthy, superfood packed entrée salads to indulgent affairs featuring premium ingredients, this bold collection of more than 60 recipes for voracious omnivores and vivacious salad lovers features unusual and dynamic ingredient pairings that take salads to a whole new level.
 
In Mixt Salads, the co-founder and executive chef of San Francisco's beloved boutique salad joints shares his inventive, flavor-forward creations. Blending all of the best trends in healthy, mindful eating—seasonal, locally grown, modest portions but big flavor—Swallow develops each entrée salad as if he were in the kitchen of a fine dining restaurant. With his penchant for innovative constructions and unabashed flavor, he reinvents the salad with playful yet elegant offerings.
 
Swallow teaches you how to create fresh, delicious, and addictive salads that take center stage as the entire meal, breaking free of side-dish status. Starting from scratch, he walks you through his salad-building essentials and highlights produce availability so that you can create your own imaginative masterpieces year round.
About the Author
---
After working at Gramercy Tavern, ANDREW SWALLOW graduated from the Culinary Institute of America in Hyde Park, New York. He continued to develop his craft at fine restaurants including Ajax Tavern in Aspen and Huntley Tavern, and as a manager of Gary Danko. During his tenure there, Andrew decided to create a new eco-gourmet fast-casual option: Mixt Greens. Partnering with his sister and brother-in-law, Leslie and David Silverglide, the team launched the San Francisco Bay Area's greenest restaurant in 2005. Mixt has since expanded to multiple locations across the country while still preserving its gutsy approach to salads, maintaining ecologically sound business practices, and retaining its original mandate of environmental sustainability. Swallow's home base is in San Francisco.
 
ANN VOLKWEIN is a food and lifestyle writer and editor based in New York City and Austin, Texas. A former culinary producer for the Food Network, she has written several cookbooks.
Praise For…
---
"If you only envision lettuce and carrots when you think of salad, this cookbook will widen your horizons."
--Library Journal, Best Books 2010: How-To list, 11/18/10

"Andrew Swallow, founder and executive chef at Mixt Greens, heard about your salad slump. And he's here to expand your horizons beyond boring lettuce with his new cookbook, Mixt Salads. Turn over a new leaf."
--VitalJuice.com, 5/19/10

"With the book organized by season, Swallow proves that salad is right for every occasion."
--Condé Nast Traveler, 5/17/10

"[I]ntriguing and fun to explore."
--San Francisco Chronicle, 3/21/10