The Band That Played on: The Extraordinary Story of the 8 Musicians Who Went Down with the Titanic (Paperback)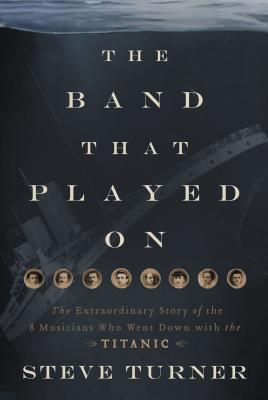 Description
---
The movies, the documentaries, the museum exhibits. They often tell the same story about the "unsinkable" Titanic, her wealthy passengers, the families torn apart, and the unthinkable end. But never before has "that glorious band," the group of eight musicians who played on as the Titanic slipped deeper and deeper into the Atlantic Ocean, been explored in such depth--until now.
Join renowned biographer Steve Turner as he shares an extraordinary portrait of eight men who were thrown together on a maiden voyage, never having played together as a band, and whose names will be forever linked because of an extraordinary act of courage in the face of death.
In The Band that Played On, Turner asks and answers key questions, including:
How did the faith of the band members allow them to react with grace under pressure?
Why does the story of the Titanic continue to fascinate?
How does the legacy of that glorious band live on today?
Praise for The Band that Played On:
"The Band that Played On is, surprisingly, the first book since the great ship went down to examine the lives of the eight musicians who were employed by the Titanic. What these men did--standing calmly on deck playing throughout the disaster--achieved global recognition. But their individual stories, until now, have been largely unknown. What Turner has uncovered is a narrow but unique slice of history--one more chapter of compelling Titanic lore."
--Marjorie Kehe, Book Editor, Christian Science Monitor