Boston Map (National Geographic Destination City Map) (Folded)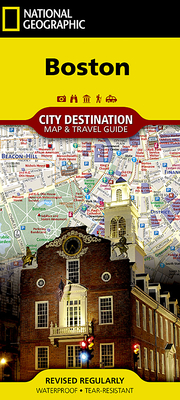 $9.95

Not in Stock... Available to ship in 3-5 days
Description
---
- Waterproof - Tear-Resistant - Travel Map
One of the oldest cities in the United States and home to some of the most renowned universities in the world, Boston will captivate visitors with its mix of historical sites from colonial days and modern high-rises. National Geographic's City Destination map of Boston is the perfect travel companion for business and leisure travelers alike, combining a unique and easy-to-read road map with an essential travel guide. Pinpointed on the map are hundreds of popular and lesser know points of interest, including monuments, notable buildings, churches, hotels, theaters, subway (The "T") and railway stations, parks, police stations and hospitals, including 3D depictions of many popular sites, like the Museum of Fine Arts, Faneuil Hall and Fenway Park. For visitors interested in walking tours, the historic Freedom, Black Heritage and Maritime trails are mapped.
Finding your destination will be simplified by the map's user friendly index of streets, notable buildings, theaters, hotels, parks, subway stations, ferry stops and other points of interest. A regional map, a comprehensive subway (The "T") map, a diagram of Logan Airport and transit information will aid in your acclimation. Background information about the city and its most popular sites is also provided.
Every Destination Map is printed on durable synthetic paper, making them waterproof, tear-resistant and tough -- capable of withstanding the rigors of any kind of travel.
Map Scale = 1:11,250Sheet Size = 24.75" x 17.75"Folded Size = 4" x 8.75"