Evensong (Paperback)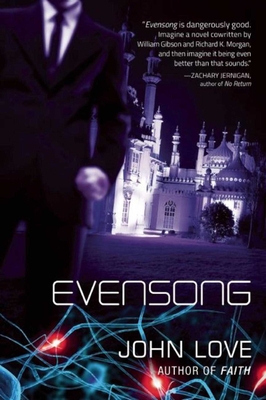 $15.99
Email or call for price
Description
---
A near-future thriller where those who protect humanity are not always completely human.

The future is a dangerous place. Keeping the world stable and peaceful when competing corporate interests and nation-states battle for power, wealth, and prestige has only gotten harder over the years. But that's the United Nations' job. So the UN has changed along with the rest of the world. When the UN's "soft" diplomacy fails, it has harder options. Quiet, scalpel-like options: The Dead—biologically enhanced secret operatives created by the UN to solve the problems no one else can.

Anwar Abbas is one of The Dead. When the Controller-General of the UN asks him to perform a simple bodyguard mission, he's insulted and resentful: mere bodyguard work is a waste of his unique abilities. But he takes the job, because to refuse it would be unthinkable.

Anwar is asked to protect Olivia del Sarto, the host of an important upcoming UN conference. Olivia is head of the world's fastest-growing church, but in her rise to power she has made enemies: shadowy enemies with apparently limitless resources.

Anwar is one of the deadliest people on earth, but her enemies have something which kills people like him. And they've sent it for her. It's out there, unstoppable and untraceable, getting closer as the conference approaches.

As he and Olivia ignite a torrid affair, Anwar must uncover the conspiracy that threatens to destroy her, the UN, and even The Dead.

Skyhorse Publishing, under our Night Shade and Talos imprints, is proud to publish a broad range of titles for readers interested in science fiction (space opera, time travel, hard SF, alien invasion, near-future dystopia), fantasy (grimdark, sword and sorcery, contemporary urban fantasy, steampunk, alternative history), and horror (zombies, vampires, and the occult and supernatural), and much more. While not every title we publish becomes a New York Times bestseller, a national bestseller, or a Hugo or Nebula award-winner, we are committed to publishing quality books from a diverse group of authors.
About the Author
---
John Love spent most of his working life in the music industry. He was managing director of PPL, the world's largest record industry copyright organization. He also ran Ocean, a large music venue in Hackney, East London. He lives just outside London in North West Kent with his wife, Sandra, and cats. Love's first novel, Faith, was published by Night Shade Books in 2012.
Praise For…
---
"Boundary pushing, smartly written...A challenging and subtle thriller with a slow burn, Evensong will pull you out of your comfort zone."
—SF Signal

"Dark, bizarre, gripping and ultimately satisfying...by the end, I was extremely impressed at what turned out to be another excellent novel [from John Love]. This is a book you need to stick with for the pay-off at the end."
—Stefan Raets, Far Beyond Reality

"Evensong is dangerously good. Imagine a novel co-written by William Gibson and Richard K. Morgan, and then imagine it being even better than that sounds."
—Zachary Jernigan, author of No Return

"A love letter to classic political thrillers, high-tech action flicks like Elysium and Mission Impossible, and even...Elmer Gantry? An appropriate fusion for our era of shifting alliances and future uncertainty, in which only the most daring ideas will save us."
—Walter Greatshell, author of Enormity and Terminal Island

"The revelations came at me like an explosion at the end...As the dust settled, I was left with a numbness, a melancholy that even now I find hard to explain, mixed with shock and disbelief...like, did I just read that?!!!...I never expected to be so powerfully affected by Evensong."
—The BiblioSanctum

"A hell of an exciting climax. This is a book that I could read three more times and fine more to over analyze. I enjoyed it greatly."
—Fantasy Review Barn

"Love bludgeons the reader with some unexpected and raw emotions that make this story rise above your general science fiction fare. This was a remarkable reading experience, and I can't wait to see what Love does next."
—Books, Bones, & Buffy

"Part melodrama, part superhero comic, part caper adventure, part serio-satirical futurology, with dollops of Dark Imaginings about the Way of the World. There's also something of the Jacobean revenge-drama in its wheels-within-wheels intrigue, its hints of the grotesque, and the emotional torque of its characters. I suppose I could try to analyze the ingredients list and worry about whether it has enough kale or too much gluten, but I think it's enough to just enjoy the flavors."
—Russell Letson, Locus

"Boundary pushing, smartly written...A challenging and subtle thriller with a slow burn, Evensong will pull you out of your comfort zone."
—SF Signal

"Dark, bizarre, gripping and ultimately satisfying...by the end, I was extremely impressed at what turned out to be another excellent novel [from John Love]. This is a book you need to stick with for the pay-off at the end."
—Stefan Raets, Far Beyond Reality

"Evensong is dangerously good. Imagine a novel co-written by William Gibson and Richard K. Morgan, and then imagine it being even better than that sounds."
—Zachary Jernigan, author of No Return

"A love letter to classic political thrillers, high-tech action flicks like Elysium and Mission Impossible, and even...Elmer Gantry? An appropriate fusion for our era of shifting alliances and future uncertainty, in which only the most daring ideas will save us."
—Walter Greatshell, author of Enormity and Terminal Island

"The revelations came at me like an explosion at the end...As the dust settled, I was left with a numbness, a melancholy that even now I find hard to explain, mixed with shock and disbelief...like, did I just read that?!!!...I never expected to be so powerfully affected by Evensong."
—The BiblioSanctum

"A hell of an exciting climax. This is a book that I could read three more times and fine more to over analyze. I enjoyed it greatly."
—Fantasy Review Barn

"Love bludgeons the reader with some unexpected and raw emotions that make this story rise above your general science fiction fare. This was a remarkable reading experience, and I can't wait to see what Love does next."
—Books, Bones, & Buffy

"Part melodrama, part superhero comic, part caper adventure, part serio-satirical futurology, with dollops of Dark Imaginings about the Way of the World. There's also something of the Jacobean revenge-drama in its wheels-within-wheels intrigue, its hints of the grotesque, and the emotional torque of its characters. I suppose I could try to analyze the ingredients list and worry about whether it has enough kale or too much gluten, but I think it's enough to just enjoy the flavors."
—Russell Letson, Locus