Elegant Life of The Chinese Literati: From the Chinese Classic, 'Treatise on Superfluous Things', Finding Harmony and Joy in Everyday Objects (Hardcover)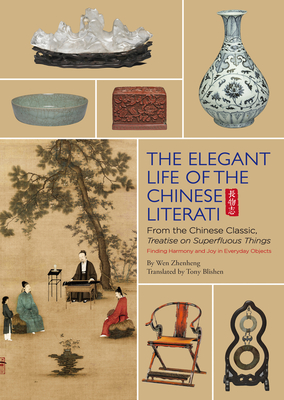 $26.95
Email or call for price
Description
---
The Elegant Life of the Chinese Literati is the first complete translation of a classic 17th century Chinese guide to the ordinary objects of everyday life—from trees and birds to windows and tea. Similar to Feng Shui, the principles laid out in this book describe how to find harmony among these ordinary objects to bring peace to your life.
Readers can gain insight into the historical and cultural context of instructions such as, "The wooden cross-piece of the door frame should have a strip of speckled bamboo nailed horizontally across it either with two or four nails, never six."
Lavishly illustrated with famous Chinese paintings and photographs of Chinese gardens, furniture, and objets d'art, readers can immerse themselves in Chinese culture, history, and values, and perhaps even learn to appreciate the everyday objects in their own lives.
With the pace of modern life, we often don't stop to appreciate the little things in life. Everyday objects go unnoticed and are continuously underappreciated. However, these individual elements come together to form a larger picture—one that defines our lifestyle.
About the Author
---
Wen Zhenheng (1585-1645) was a bibliophile and expert in garden design who excelled in poetry, prose, and painting. He was the grandson of noted Ming Dynasty painter, calligrapher, and literary figure Wen Zhengming (1470-1559).