Emily Dickinson's Gardening Life: The Plants and Places That Inspired the Iconic Poet (Hardcover)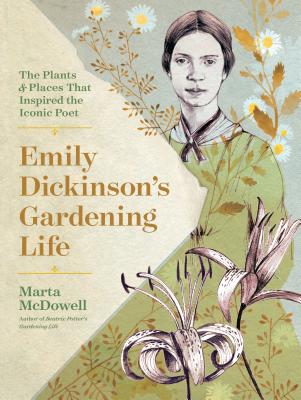 $28.00

Not in Stock... Available to ship in 3-5 days
Description
---
"A visual treat as well as a literary one…for gardeners and garden lovers, connoisseurs of botanical illustration, and those who seek a deeper understanding of the life and work of Emily Dickinson." —The Wall Street Journal

Emily Dickinson was a keen observer of the natural world, but less well known is the fact that she was also an avid gardener—sending fresh bouquets to friends, including pressed flowers in her letters, and studying botany at Amherst Academy and Mount Holyoke. At her family home, she tended both a small glass conservatory and a flower garden.
 
In Emily Dickinson's Gardening Life, award-winning author Marta McDowell explores Dickinson's deep passion for plants and how it inspired and informed her writing. Tracing a year in the garden, the book reveals details few know about Dickinson and adds to our collective understanding of who she was as a person. By weaving together Dickinson's poems, excerpts from letters, contemporary and historical photography, and botanical art, McDowell offers an enchanting new perspective on one of America's most celebrated but enigmatic literary figures.
About the Author
---
Marta McDowell's writing has appeared in The New York Times, Woman's Day, Country Gardening, and elsewhere. Her previous books include Beatrix Potter's Gardening Life, All the Presidents' Gardens, The World of Laura Ingalls Wilder, Emily Dickinson's Gardening Life, and Unearthing The Secret Garden. She consults for public gardens and private clients, writes and lectures on gardening topics, and teaches landscape history and horticulture at the New York Botanical Garden, where she studied landscape design. She lives, writes, and gardens in Chatham, New Jersey.
Praise For…
---
"Offers an excuse (if one is necessary) to linger yet again over the observations of a poet who, as Dickinson herself proclaimed, 'was always attached to Mud'…wandering through this book, we can smell the hyacinth that bloomed on the poet's windowsill in winter, hear the thrum of hummingbird wings, smell the cooking odors from the kitchen and imagine Dickinson pruning, staking, digging — and listening and watching." —The New York Times Book Review

"Emily Dickinson's garden might not get as much love in Dickinson as it did in real life, but that's all the more reason to read this book." —Bustle

"Dickinson admirers will find much that is new and affirming here, while this will also delight all who love plants and readers who enjoy unusual approaches to biography." —Booklist

"A must-have keepsake for Dickinson fans." —Literary Ladies Guide

"Delightful…Part biography, part poetry, and a whole lot of gardening inspiration." —Pages and Cup

"In these pages, you are beside Emily Dickinson's elbow—feeling the dense heat of summer, noting the gay attire of the scarlet runner beans, learning the skills of an ultra-observant plantswoman, finding the poetry in nature." —Tovah Martin, horticulturist, lecturer, and author of The Garden in Every Sense and Season

"Emily Dickinson's Gardening Life evokes the vibrant, vanishing world of the poet's nineteenth century and reminds us of our still more charged responsibilities as twenty-first-century gardeners." —Marta Werner, professor of English, Loyola University, Chicago

"This engaging book imagines our great poet's days among her plants and flowers." —Judith Farr, author of The Gardens of Emily Dickinson

"A visual treat as well as a literary one… 'Emily Dickinson's Gardening Life' will be deeply satisfying for gardeners and garden lovers, connoisseurs of botanical illustration, and those who seek a deeper understanding of the life and work of Emily Dickinson." —The Wall Street Journal

"Emily Dickinson's Gardening Life offers an enchanting perspective on one of America's most celebrated literary figures." —Bookriot

"Deftly weaving together poems, plants, and historical detail, the book takes us down the same pathways that Emily Dickinson trod." —Bellewood Gardens' Garden Diary

"In Emily Dickinson's Gardening Life, we get not just Dickinson's history, but a slice of horticultural history, plus a charming palette of plants for a poet's garden." —A Way to Garden

"Marta McDowell brings Emily Dickinson to life as a gardener, one who was as enchanted and passionate about the plants and flowers of the Homestead's gardens, the wildflowers of the field, and those she grew in a little conservatory… It's a gardener's life, one who happened to be a poet." —Growing Interest

"Makes a beautiful connection between pen and trowel." —The Financial Times 

"Marta McDowell invites the reader to enter the seasonal world of the enigmatic poet, providing an intimate portrait of her gardening universe…an elegant reminder of how gardens and landscapes nurture the creative life." —The Mercury

"For those who might welcome literary odes to plants and flowers, with history added to the mix." —The Santa Fe New Mexican

"An absolute treasure trove." —Greenfield Recorder

"This is a lovely addition to any gardening or poetry library." —Green Valley News

"Charmingly engaging… Dickinson's poems, historical photographs, lovely botanical art and excerpts from letters are woven throughout the book." —Empire-Tribune

"A book that beautifully combines history, gardening, poetry and perseverance." —The News Tribune

"A book to treasure… A full color, lushly illustrated homage to an enigmatic woman who was not only a brilliant poet, but a keen observer of the natural world around her." —Literary Ladies

"Marta McDowell plumbs the deep passion that the poet had for plants and the way they inspired and characterized her works, combining poetic texts with old and new photographs and botanical illustrations"—Ugolini

"Offers an excuse (if one is necessary) to linger yet again over the observations of a poet who, as Dickinson herself proclaimed, 'was always attached to Mud'…wandering through this book, we can smell the hyacinth that bloomed on the poet's windowsill in winter, hear the thrum of hummingbird wings, smell the cooking odors from the kitchen and imagine Dickinson pruning, staking, digging — and listening and watching." —The New York Times Book Review

"Emily Dickinson's garden might not get as much love in Dickinson as it did in real life, but that's all the more reason to read this book." —Bustle

"Dickinson admirers will find much that is new and affirming here, while this will also delight all who love plants and readers who enjoy unusual approaches to biography." —Booklist

"A must-have keepsake for Dickinson fans." —Literary Ladies Guide

"Delightful…Part biography, part poetry, and a whole lot of gardening inspiration." —Pages and Cup

"In these pages, you are beside Emily Dickinson's elbow—feeling the dense heat of summer, noting the gay attire of the scarlet runner beans, learning the skills of an ultra-observant plantswoman, finding the poetry in nature." —Tovah Martin, horticulturist, lecturer, and author of The Garden in Every Sense and Season

"Emily Dickinson's Gardening Life evokes the vibrant, vanishing world of the poet's nineteenth century and reminds us of our still more charged responsibilities as twenty-first-century gardeners." —Marta Werner, professor of English, Loyola University, Chicago

"This engaging book imagines our great poet's days among her plants and flowers." —Judith Farr, author of The Gardens of Emily Dickinson

"A visual treat as well as a literary one… 'Emily Dickinson's Gardening Life' will be deeply satisfying for gardeners and garden lovers, connoisseurs of botanical illustration, and those who seek a deeper understanding of the life and work of Emily Dickinson." —The Wall Street Journal

"Emily Dickinson's Gardening Life offers an enchanting perspective on one of America's most celebrated literary figures." —Bookriot

"Deftly weaving together poems, plants, and historical detail, the book takes us down the same pathways that Emily Dickinson trod." —Bellewood Gardens' Garden Diary

"In Emily Dickinson's Gardening Life, we get not just Dickinson's history, but a slice of horticultural history, plus a charming palette of plants for a poet's garden." —A Way to Garden

"Marta McDowell brings Emily Dickinson to life as a gardener, one who was as enchanted and passionate about the plants and flowers of the Homestead's gardens, the wildflowers of the field, and those she grew in a little conservatory… It's a gardener's life, one who happened to be a poet." —Growing Interest

"Makes a beautiful connection between pen and trowel." —The Financial Times 

"Marta McDowell invites the reader to enter the seasonal world of the enigmatic poet, providing an intimate portrait of her gardening universe…an elegant reminder of how gardens and landscapes nurture the creative life." —The Mercury

"For those who might welcome literary odes to plants and flowers, with history added to the mix." —The Santa Fe New Mexican

"An absolute treasure trove." —Greenfield Recorder

"This is a lovely addition to any gardening or poetry library." —Green Valley News

"Charmingly engaging… Dickinson's poems, historical photographs, lovely botanical art and excerpts from letters are woven throughout the book." —Empire-Tribune

"A book that beautifully combines history, gardening, poetry and perseverance." —The News Tribune

"A book to treasure… A full color, lushly illustrated homage to an enigmatic woman who was not only a brilliant poet, but a keen observer of the natural world around her." —Literary Ladies