Plant Parenting: Easy Ways to Make More Houseplants, Vegetables, and Flowers (Paperback)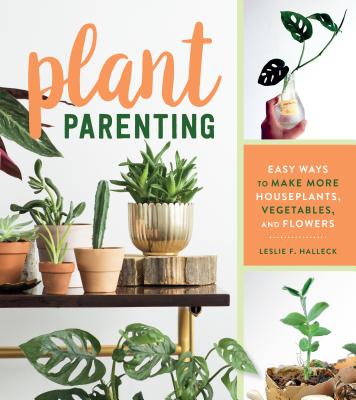 Description
---
"Everything a plant parent needs to take their plant collection—and plant knowledge—to the next level." —Maria Failla, founder, Bloom & Grow Radio podcast

Do you have a passion for houseplants? A desire to grow more tomatoes? Do you want a garden bursting with colorful flowers? No matter what kind of plant fan you are, it's easy to make more of your favorite plants—and it can be done for free! Plant Parenting is a beginner-friendly introduction to plant propagation. Leslie F. Halleck details the basic tools necessary, demystifies seed starting and saving, and shares easy-to-follow instructions for the most practical techniques. She also provides additional information on controlling pests and diseases and transplanting seedlings and cuttings. Charming, richly illustrated, and accessible, Plant Parenting is for anyone looking to make more of their favorite plants.
About the Author
---
Leslie F. Halleck is a dedicated horticulturist with a masters in horticulture from Michigan State University. She is a Certified Professional Horticulturist (CPH) via The American Society for Horticulture Science, with more than 25 years of green industry experience in research, greenhouse production, public gardens, garden center retail, landscape and design services, and gardening communications. Her work has been published in many scientific, industry, and consumer horticulture publications such as Fine Gardening, Greenhouse Management Magazine, and more. She currently runs Halleck Horticultural, LLC, a company that provides consulting services to green industry businesses, as well as horticultural consulting.
Praise For…
---
 "Lays out the steps to propagating your plants in a clear and engaging way. Whether you're a seasoned gardener or a complete beginner, you'll come away from this book inspired to try something new." —Jane Perrone, host, On The Ledge podcast; former gardening editor, The Guardian
 
"This book is everything a plant parent needs to take their plant collection—and plant knowledge—to the next level." —Maria Failla, founder, Bloom Grow Radio 

"Halleck provides the essential tips, tools, and techniques for growing and propagating plants to keep plant owners of all skill levels in the green. Four-color photos and easy-to-follow instructions are sure to set plant parents up for success." —Booklist

"Halleck's informative resource will leave budding gardeners well-prepared to turn a few plants into many with little expense and a lot of well-informed fun." —Publishers Weekly

"Lots of great information…Leslie Halleck's new book offers easy-to-follow guidance on propagating indoor and outdoor plants." —Joe Lamp'l

"Aimed at both novices and advanced growers, Plant Parenting is Halleck's visually rich, step-by-step presentation on how to multiply your existing plants at little or no cost. Released this month by Timber Press, the new book covers a range of topics from basic plant information to propagation materials and tools you'll need, how to start transplants and what to do to take your seedlings and cuttings to the next stage." —​Green Source DFW

"[Halleck] shares the tips you need to know to reap all the benefits of plant propagation." —​American Farmhouse Style

"Halleck… is passionate about making it easier for us to get the plants we want into our living spaces." —Mind Body Green

"Accessible and extensive advice on the propagation and care of houseplants, vegetables and flowers, with illustrative photographs and diagrams." —Gardens Illustrated

"Anyone who is a beginning or more advanced plant and garden enthusiast will find something useful in this book. From seed starting, rooting plant cuttings in water, to basic plant division, all methods of increasing your plant stock are described in detail with step-by-step photographs." —Vancouver Sun

"Explains easy ways to create more houseplants, vegetables, and flowers." —Simply Southern Mom

"Keep your houseplants, flowers, and vegetable gardens healthy with easy tips and tricks." —Health Magazine

"Plant Parenting is a great reference book for gardeners of all levels. The easy-to-follow instructions and helpful tips ensure they will be successful." —Susan's in the Garden