COVID-19
We miss having customers in the store! However, we want our customers and staff to stay healthy and safe so are still in the process of opening safely.
While we work to open up, we're also here to meet your bookish needs! To buy new books, order through this website. If you're looking for used or rare books, browse our collection on Biblio. You can also give us a call to place an order or to check on the availability of a title.
We are unable to consider used book offers until after we re-open to the public.
How To Be Happy (Hardcover)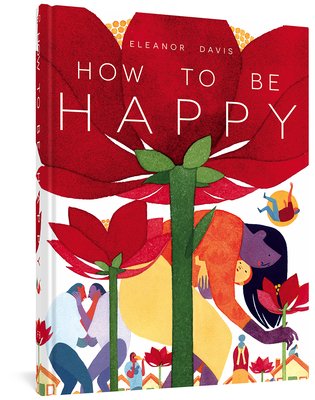 $24.99
Not in Stock... Available to ship in 3-5 days​
Staff Reviews
---
Fend off winter blues with Eleanor Davis's compilation of graphic shorts, How to Be Happy. Absurdly comical and strangely tender, her characters explore some familiar human paradoxes and arrive at curious insights that strike home. The exquisite style and vibrant colors of Davis's illustrations add to the unique aura and charm of her work. This book is a real gem. - David
— From
Holiday Picks from WBW Staff
Description
---
This is the first collection of literary short comics stories by an award-winning cartoonist.
Eleanor Davis'sHow to be Happy is the artist's first collection of graphic/literary short stories. Davis is one of the finest cartoonists of her generation, and has been producing comics since the mid-2000s. Happy represents the best stories she's drawn for such curatorial venues as Mome and No-Brow, as well as her own self-publishing and web efforts. Davis achieves a rare, subtle poignancy in her narratives that are at once compelling and elusive, pregnant with mystery and a deeply satisfying emotional resonance. Happy shows the full range of Davis's graphic skills — sketchy drawing, polished pen and ink line work, and meticulously designed full color painted panels— which are always in the service of a narrative that builds to a quietly devastating climax.
Named one of NPR's and Publishers Weekly's Best Books of 2014.
Shortlist, Slate's 2014 Cartoonist Studio Prize for Best Print Comic of the Year
2015 Ignatz Award Winner: Outstanding Anthology or Collection

About the Author
---
Raised in Tucson, Arizona, Eleanor Davis lives in Athens, Georgia with her husband, the cartoonist Drew Weing.

Praise For…
---
The success of this collection suggests that short pieces are likely Davis' métier, but what's here is so accomplished that it's natural to hope for a book-length work next time out.
— Gordon Flagg
...
How to be Happy
[is] an imaginative collection of graphic literary short stories... Don't be fooled by the title, though; you won't find the key to happiness in these illustrations. Instead, the story that emerges from them forms a cryptic play on society's expectations for happiness.
— Amber Hage-Ali
Though Davis' tales can be wildly different in look and narrative, they are united by themes of yearning, of characters searching for the thing that will make their lives better. ...Remarkable ... exquisite ...
How to Be Happy
left me wanting more.
— Carolina A. Miranda
Lies! Deceit and rank mendacity! Eleanor Davis promises what current pop music insists is perfectly possible — that you can be happy — and then she doesn't deliver. Instead she draws comics full of hilarious surrealism, gut-tugging tropes and eloquent despair. How dare she? ... In her roundabout way, she dramatizes not the prospect of happiness, but the promise of it. Her natural territory is found in all the funny and tragic effects of that promise.
— Etelka Lehoczky
…[Davis's] stories often feature tremendous longing and sadness, but they also lushly suggest what a blessing it is to be alive and in the world. She presents, in short, a more realistic picture of what it means to be a human, with our ever-present mind/body tug-of-war, than almost anyone else out there making art. And what art it is: there may be nothing Davis can't beautifully illustrate. …How to Be Happy is fearless and fantastic, unafraid to break rules or to make new ones.
— Hillary Brown
[Starred Review] The excellence and variety of the art in this short comics story collection is matched only by the painful incisiveness of the stories, most circling around attempts both foolish and sincere to find happiness. Some of Davis's art styles are reminiscent of her children's books (Secret Science Alliance, Stinky)—simple supple black and white line drawings—others resemble Little Golden Books, bright blocks of colors and button nosed characters, but only as if written by Raymond Carver. ... A powerful collection that resonates with all the ills, real and imagined, of our modern life.
This collection... is impressively varied and emotionally resonant. With images ranging from scratchy black-and-white line drawings to robust images saturated with color, Davis is comfortable in a variety of styles, carefully choosing each one to best fit her tone and mood.
— Kelly Thompson
...[
How to Be Happy
] is an inspired and inspiring collection of short work clearly establishing Davis as a leading cartoonist of the Tumblr era.... Davis' clever and sometimes jaw-droppingly beautiful artwork makes [these] stories feel real.
— Dan Kois
Eleanor Davis' breakthrough short story collection
How to Be Happy
… is a gorgeous book filled with exquisite cartooning. Davis switches between styles and subject matter with each story, flitting between melancholy, heartbreak, and nostalgia with a casual virtuosity.
— Tim O'Neil
Eleanor Davis' breakthrough short story collection
How to Be Happy
… is a gorgeous book filled with exquisite cartooning. Davis switches between styles and subject matter with each story, flitting between melancholy, heartbreak, and nostalgia with a casual virtuosity.
— Tim O'Neil
Sad or happy, Davis is one of the greats. So is this book.
— Sean T. Collins
Davis's brightly coloured, melancholic short stories catalogue different approaches to the form -- here a science fiction tale, there a glimpse of suburban young love -- all featuring lost souls desperate for happiness.
— Sean Rogers
Eleanor Davis's stylistic inconsistency is one of her greatest strengths, and
How to Be Happy
, a collection of her short pieces, shows off the breadth of her artistic range. … Almost all of her characters are casting about for ways to fight off despair... They're doomed to failure, of course, but they keep trying.
— Douglas Wolk
Davis is rightfully a rising talent, and one of her greatest gifts is her ability to build narrative momentum. She creates suspense, mystery and come-hither curiosity by never overtipping her artful hand.
— Michael Cavna
Imaginative and funny and fanciful, but it's also very thoroughly worked out. She's not afraid to be clear.
— Franc¸oise Mouly
The art of Eleanor Davis sits proudly and comfortably on a continuum with the celebrated work of David Mazzucchelli (
Asterios Polyp
), Jeff Lemire (
The Underwater Welder
), and David B. (
Epileptic
). Cartoony yet naturalistic, her art limns a world that can shift from very real to utterly surreal, sometimes within the same story. ... Like the body of a dead fox as depicted here by Davis in all its gruesome magnificence, these stories hide thick raw sinews beneath their glossy pelts.
— Paul DiFilippo
Whether she's working in ink or in color, in longer or shorter stories, from slice of life to science fiction Davis shows herself to be a gifted and versatile storyteller.
— Alex Dueben
How to Be Happy
is an argument for empathy, but not of the call-and-response kind. The stories here know the world is often heavy and intolerable. And also worthwhile; sometimes touched by light, sometimes full of music. Empathy is knowing both sides of the world, shouldering them and carrying on, searching for the still unblemished parts of the soul.
— Paul Arrand Rodgers
It's a stunning body of work that brings together loosely personal and wholly fictional stories about joy, anguish, fear and loneliness — emotions all motivated by that essential quest to be the best you can be.
— James Cartwright
The book's a unique showcase for Davis' range, combining everything from minimalist, sketchy cartoons to lushly-illustrated full-color pieces and extended works -- tales that explore the simple-yet-sometimes overwhelming problems of being human.
— Zack Smith
This collection of short stories about people desperately trying to suppress or embrace or just somehow deal with all the difficult emotions careening around in their brain just underscores... that [Davis] is a tremendous talent, and one of the smartest voices working in comics today.
— Chris Mautner
The book contains about 12 strange, beautifully drawn short stories, depending on how you count them, as well as several short vignettes. None of the stories is especially linear. Each feels almost like a sketch from experimental theater: disturbing, and emotionally pungent.
— Karen Sandstrom
This collection is astounding because of how hard Davis works to sequence each story and provide appropriate interstitial material. Seeing all of these stories at once provides a remarkable and surprising sense of cohesiveness, as many of them are about restless, lost, and sometimes doomed people. The drawings, the use of color, and the overall packaging all fit into this feeling of reading almost a hand-made item.
— Rob Clough
Davis plays with different styles, while simultaneously mesmerizing the reader with the color choices. Her watercolors in particular are beyond gorgeous, and funny enough, the reader can feel a rush of happiness after reading the book in its entirety.
— Cameron Hatheway
I could praise what Davis achieves in this book all day -- it's as fine comicking as you could hope to come across: the enmeshing of wonderful art with good, strong narrative that naturally prompts and drives discussion and thought without it feeling overt or jaggedly superficial, is superb. Exceptional cartooning is when those elements come together in a cohesive manner, and Davis' work is on that plane. I haven't come across any comics that raise similar themes and ideas and yet
How to Be Happy
is widely, deeply applicable and resonant. It works and works and works some more. For many people this volume will be their introduction to Elenaor Davis' work; I can't imagine anyone coming away unimpressed.
— Zainab Akhtar
I appreciated my time in Eleanor Davis' worlds. She offers plenty of food for the hungry of thought—even if thought may ultimately be the root of our troubles. She invites readers into realms of nostalgia and of mystery and of existential terror. The portholes through which we can view these kingdoms of hope and pain are small and smudged, but we see enough. Enough to apprehend them, enough perhaps even to judge them. And certainly enough to enjoy the experience of their lessons.
— Seth T. Hahne