Finding Stillness in a Noisy World (Paperback)
Weller Book Works was founded as Zion Bookstore nearly 90 years ago. Over the years we've been known as Sam Weller's Books and Sam Weller's Zion Bookstore. We are in our third generation of operations, owned and managed by Tony and Catherine Weller. Our staff includes four generations of Wellers and a remarkable team of book lovers. Our bookstore sells new, used and rare books in a space built to surprise and delight you in historic Trolley Square.

We're happy to answer your questions and help you select just the right book.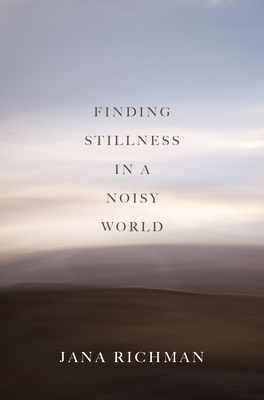 Description
---
Moving through the settings of her life—red rock canyons, aspen forests, mountains, and cities—Jana Richman probes the depths of her internal landscape and asks how we can find stillness in our noisy world. In essays both personal and profoundly universal, Richman eschews quick and easy answers for quiet reflections on the questions: In a culture demanding that every voice be heard, how do we make sense of the resulting roar? Where do we seek solace when the last quiet places are sacrificed to human hubris? How do we shed the angst thrust upon us to create lives of peace?

In these wide-ranging personal essays, Richman travels interior roads through fear, kindness, ignorance, darkness, wildness, compassion, solitude, loneliness, and more—always asking how external geography informs our internal geography. From the monsoonal rains in the carved slot canyons of the Escalante to the eroticism of dirt on skin in a remote slice of the Grand Canyon; from the defiance of academic authority to the curled, arthritic fingers of her mother and grandmothers, Richman sinks into the realities that make us human and fallible and blessed.

Inspired by masters of the traditional personal essay such as E.B. White and M.F.K. Fisher, Richman adds a unique, deeply intimate—and often humorous—voice to the concurrence of human experience. Like a desert stream, human meaning meanders before coming to rest. Richman's authentic voice illuminates the place where internal and external landscapes merge into meaning. Time with these genuine, inclusive pieces is time well spent. 
 
About the Author
---
Jana Richman
is the author of a memoir,
Riding in the Shadows of Saints: A Woman's Story of Motorcycling the Mormon Trail
, and two novels, T
he Last Cowgirl
, which won the 2009 Willa Award for Contemporary Fiction, and 
The Ordinary Truth
. Born and raised in Utah's west desert, she currently lives in Escalante, Utah, where foot travel is her preferred method of commuting and exploring.
Author website
Praise For…
---
"Imagine a 21st-century Desert Solitaire written by a woman.  By a sixth-generation Mormon. By a writer who feels just as solitary as Edward Abbey but who also is fully embedded in emotional partnership with her husband. In essays keen with intelligence, raw with self-revelation, and lush with close and true observation of her home landscape, Jana Richman explores 'the life I want to live versus the life I'm supposed to live.'"
—Stephen Trimble, author of Bargaining for Eden and editor of Red Rock Stories
 
"Effortless prose that pulls the reader forward, with engaging turns of phrase on almost every page, often with a smiling sense of humor. This book is a real pleasure to read."
—Thomas L. Fleischner, author of Singing Stone: A Natural History of the Escalante Canyons and editor of Nature, Love, Medicine: Essays On Wildness and Wellness