COVID-19
Weller Book Works is closed to the public. But Catherine and Tony are working behind closed doors to keep the store ready to open when we're able.
We're still taking and filling orders via this website for new books or Biblio for used and rare books. At this time we can offer curbside pick-up or shipping only.
We are unable to consider used book offers until after we re-open to the public.
Lovecraft Alive! (A Collection of Lovecraftian Stories) (Paperback)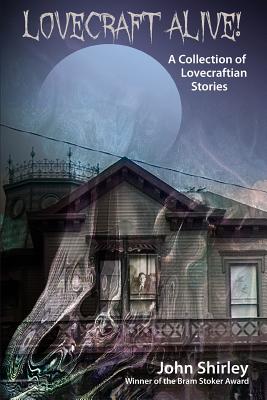 $20.00
Not in Stock... Available to ship in 3-5 days​
Description
---
Acclaimed novelist John Shirley has written novels and tales that span the spectrum of imaginative literature, from science fiction to psychological terror to supernatural horror. One of the writers that inspired him to become a writer was H. P. Lovecraft, and in this volume Shirley pays tribute to the titan of weird fiction with a series of imaginative elaborations upon Lovecraft's Cthulhu Mythos. These stories range from narratives that feature Lovecraft himself as a shadowy character ("When Death Wakes Me to Myself") to historical tales where Lovecraftian entities emerge at critical points in the past ("Those Who Come to Dagon," "The Rime of the Cosmic Mariner," "Broken on the Wheel of Time") to vibrant tales melding Lovecraftian terror with modern technology ("At Home with Azathoth," "The Holy Grace of Cthulhu"). The volume concludes with a scintillating unpublished novella, "Broken on the Wheel of Time," elaborating upon conceptions found in Lovecraft's "The Shadow out of Time." "Putting this book together, I wondered what Lovecraft would have thought of it, and I found myself imagining Lovecraft traveling in time and reading my stories. Though HPL might need a cultural "translator" for these stories, since they're all twenty-first-century fare, I think he would at least recognize them as refractions of his work."-From John Shirley's Introduction John Shirley is the author of the best-selling Wetbones (1991) and other novels, and has published such short story collections as Black Butterflies: A Flock on the Dark Side (1998) and In Extremis: The Most Extreme Short Stories of John Shirley (2011). He had won the Bram Stoker Award and the International Horror Guild Award. He is also a prolific songwriter and singer.