Race and Excellence: My Dialogue With Chester Pierce (Hardcover)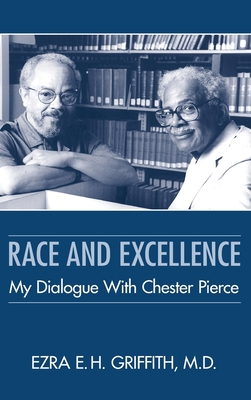 Description
---
Chester Pierce was born in 1927; by 1952 he was a graduate of the Harvard Medical School. He went on to become president of the American Board of Psychiatry and Neurology and president of the American Orthopsychiatric Association. He was elected to the Institute of Medicine at the National Academy of Sciences and had an annual research seminar named after him by the National Medical Association.
Founding chair of the Black Psychiatrists of America, Pierce has profoundly affected American psychiatry and the thinking of African American psychiatrists during the last two decades. While recognized for his substantive scholarship on coping with extreme environments such as the South Pole, he is probably best known for his theories regarding how blacks cope with racism in the United States.
In Race and Excellence, Ezra Griffith, also an African American professor of psychiatry, engages Pierce in a dialogue with the goal of clarifying the inter-connection between the personal and the professional in the lives of both black scholars. The text melds the story of Pierce's life and his achievements, with particular attention to his theories about the predictable nature of racist behavior and the responses of oppressed groups. Having earned his doctorate a generation after Pierce, Griffith approaches his conversation with Pierce as a face-to-face meeting between mentor and student. Retelling Pierce's life story ultimately becomes for Griffith an exercise in conceptualizing his own experience. As he writes, "I never just wanted to tell Chet's story; I wanted to work his story out, to measure it, to try it on, to figure out which parts are good for me and other blacks so earnestly seeking heroes."