Saving Animals: A Future Activist's Guide (Paperback)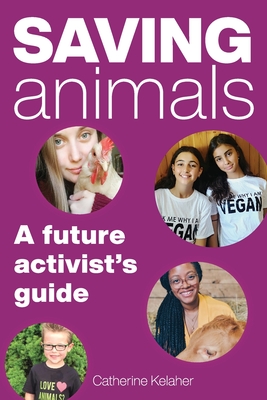 Description
---
You're never too young to change the world
Do you want to help animals but are not sure how? Or maybe you are already helping animals and want to do more. Whether you're seven years old or seventeen, Saving Animals: A Future Activist's Guide - a lively, interactive, hands-on guide to animal and environmental activism for young people of all ages - will show you how.
This timely book covers all aspects of animal protection - from pets to farm animals to wildlife - as well as how to make the world a better place for animals through vegan outreach, animal advocacy, and volunteerism. Whatever your personality, skillset, or age, you'll find something in this book to inspire you.
In addition to information on why animal protection is vital for all living beings as well as our planet, this book is filled with the interviews and stories of more than two dozen young activists, ranging in age from seven to twenty-two, all of whom are doing amazing things to help create a kinder world. You'll learn how fun and easy it is to be vegan, discover what kinds of outreach will best fit your style, and find hope for a better future.
"We may be young, but we're also powerful. People will see us speaking up for animals and will realize that they, too, can make positive changes. Our voices will be heard." --Emma Black (14), Wollongong, Australia