The Brink of Darkness (The Edge of Everything) (Hardcover)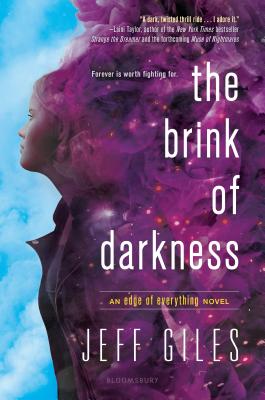 $18.99
Email or call for price
Description
---
"A dark, twisted thrill ride that is also a funny, warm-hearted romance . . . I adore it." --Laini Taylor, author of the New York Times bestseller Strange the Dreamer and the forthcoming Muse of Nightmares

In this sequel to the cinematic, romantic fantasy The Edge of Everything, star-crossed X and Zoe must overcome the boundaries of their two worlds in order to find their way back to each other.

Things have changed for seventeen-year-old Zoe ever since the otherworldly events that brought her together with the mysterious bounty hunter she calls X. In order to save Zoe and her family, X has done the unthinkable--he's given up his freedom and returned to captivity in the Lowlands.

X is determined to break the lords' hold on him once and for all, but being stripped of his power pushes him toward a darkness he's never experienced and a past he's never known. The secrets that surface could be the key to reuniting X and Zoe . . . or they could mean the destruction of everything they have been fighting for.

Gripping and full of heart, this epic continuation of Jeff Giles' series will bring readers right to the edge of everything.
About the Author
---
Jeff Giles is the author of The Edge of Everything and it sequel The Brink of Darkness. He grew up in Cohasset, Massachusetts. He's been the deputy managing editor of Entertainment Weekly and has written for Rolling Stone and The New York Times Books Review. He also coauthored The Terrorist's Son, a nonfiction book that won an Alex Award from the American Library Association and has since been translated into more than a dozen languages. While reporting on the Lord of the Rings movies for Newsweek, Jeff was invited to be an extra in The Return of the King. He played a Rohan soldier, and-because he didn't have a beard or mustache-they glued yak hair to his face. Jeff lives with his family in Montana.

@MrJeffGiles
Praise For…
---
"This heartrending love story fits right in the paranormal fiction and romance genres that center on the devotion and sacrifice of true love." - School Library Journal

"Some lovely meditative thoughts on the nature of parenting and friendship, and a heartwarming and thoroughly romantic happy ending." - Booklist

"You know how you were just wishing for a dark, thrilling bounty hunter romance set in Hell? Well, here you go. The Brink of Darkness is a dark, twisted thrill ride that is also a funny, warm-hearted romance . . . and a beautiful tribute to friendship and family. I adore it." - Laini Taylor, author of the NEW YORK TIMES bestseller STRANGE THE DREAMER and the forthcoming MUSE OF NIGHTMARES

"Prepare to be obsessed . . . A wild, gripping fantasy about how only love can lead you out of the dark. Zoe and X will break your heart ten times before it's over, but their story glitters with humor and hope." - Danielle Paige, NEW YORK TIMES bestselling author of STEALING SNOW and the Dorothy Must Die series

"Made me laugh, cry and kept me turning pages way past my bedtime. This series is a must-read for fantasy fans everywhere." - Susan Dennard, NEW YORK TIMES bestselling author of the Witchlands series

"A thrilling edge-of-your-seat fantasy--Jeff Giles gives readers an unforgettable finale to his brilliant series." - Kami Garcia, #1 NEW YORK TIMES bestselling coauthor of BEAUTIFUL CREATURES and author of BROKEN BEAUTIFUL HEARTS

Praise for The Edge of Everything - .

"A sharp fantasy thriller, and a dark one at that." - People

"An intriguing start to a new series." - Entertainment Weekly

"Thrilling." - Buzzfeed

"A lot of fun."- The New York Times Book Review

"With imagination and verve, Giles delivers the goods required by the genre." - Time

"[An] amazingly crafted novel." - USA Today

"Smartly written fantasy with depth." - New York Magazine

"A gorgeous, unearthly ride." - starred review, Shelf Awareness

"Sharp, dark, thoughtful and romantic." - Cassandra Clare, #1 NEW YORK TIMES bestselling author of The Mortal Instruments series

"Gripping. Utterly original. Beautifully written." - Peter Jackson, Oscar-winning director of The Lord of the Rings and The Hobbit trilogies

"A fresh and addictive read." - Kami Garcia, #1 NEW YORK TIMES bestselling coauthor of BEAUTIFUL CREATURES and author of THE LOVELY RECKLESS

"A dark and suspenseful supernatural thriller that kept me up all night." - Melissa de la Cruz, #1 NEW YORK TIMES bestselling author of THE ISLE OF THE LOST

"A rich and satisfying read on multiple levels." - Booklist

"Reads like a blend of J.R.R. Tolkien's "The Lord of the Rings" and modern-day horror, such as Stranger Things." - School Library Journal

"An intriguing story that leaves the door open for future books." - Publishers Weekly

"Readers are advised to dive in now and revel in the star-crossed-lovers glory of it all." - BCCB

"Fantastical in nature, this story will keep readers interested until the very end." - School Library Connection

"A wholly-engrossing page-turner." - VOYA